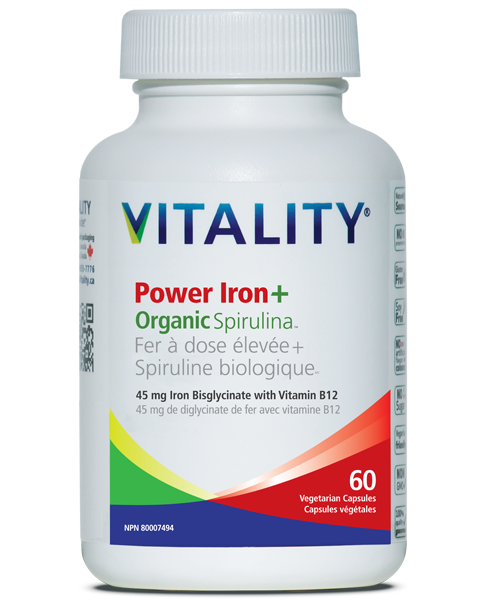 Description & Features
Improve your energy and mood with Power Iron + Organic Spirulina. Starting with a high level of iron: 45 mg, plus key vitamins and organic spirulina to increase absorption and energy. VITALITY uses iron bisglycinate which is gentle on the stomach, well absorbed and non-constipating to help build blood, deliver oxygen through the body to improve energy and mood.
Ultimate blood builder with 45 mg of iron bisglycinate
Enhances energy and mood, with vitamin B12 and spirulina
Boosts brain function and focus
Increases stamina and combats fatigue caused by iron deficiency anemia
Iron bisglycinate is well absorbed, less likely to cause constipation and is gentle on the stomach
VITALITY is ideal for
Iron deficiency, anemia, low ferritin
B12 deficiency
During pregnancy
During menstruation
For vegans and vegetarians or those that don't consume red meat
Ingredients:

Medicinal ingredients
| | |
| --- | --- |
| Iron (iron (II) bisglycinate)(elemental) | 45 mg |
| Vitamin B12 (methylcobalamin) | 1000 mcg |
| Vitamin C (ascorbic acid) | 100 mg |
| Folic acid (folate) | 1000 mcg |
| Certified organic spirulina | 75 mg |
| Vitamin C (ascorbic acid) | 100 mg |
Non-medicinal ingredients
Hypromellose, microcrystalline cellulose, vegetable magnesium stearate.
Adult dosage: (Adults) Take one capsule once daily. Take with food. Take a few hours before or after other medications.