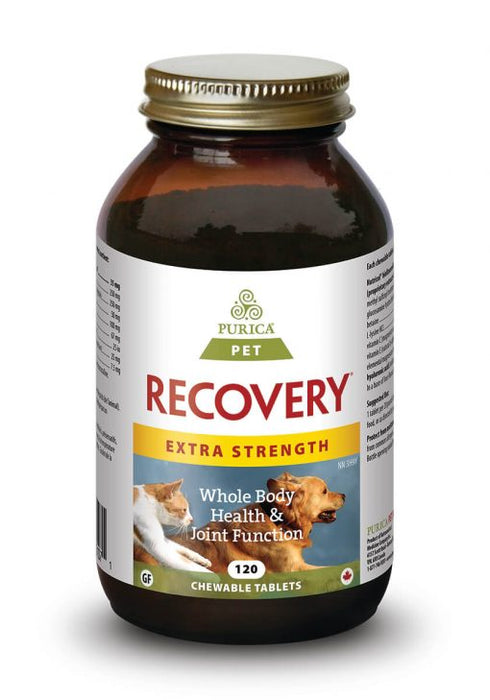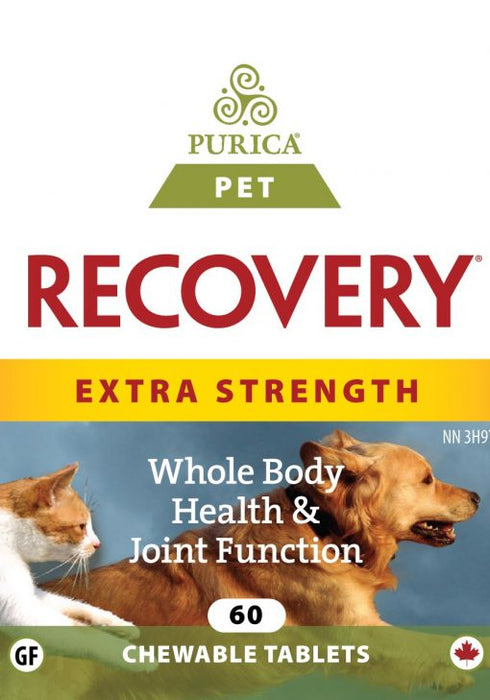 Purica Pet Recovery Extra Strength
Description & Features
PURICA Pet Recovery Extra Strength with Nutricol® and hyaluronic acid
Delicious flavoured chewable tablets
This formula is exactly the same as PURICA Pet Recovery tablets with the addition of 7.5 mg of hyaluronic acid (HA) per dose.
Just like other members of your household, your pet may suffer from painful conditions due to injury, genetic predisposition, or as the result of aging. You can help to improve your pet's quality of life. Ask a veterinarian for PURICA Pet Recovery.
Playfulness prevails when a pet is limber, happy and free from discomfort. Supplementing Pet Recovery brings pain-free living.
By supplementing Pet Recovery you can safely and effectively prevent and halt many lameness-associated conditions and improve healing.
improve flexibility
improve healing
increase playfulness
improve breathing
improve coat strength and sheen
Pet Recovery contains Nutricol® a proprietary combination of proven ingredients purified from grapes and tea. Nutricol® decreases trauma by both increasing the cell's resistance to damage and improving it's ability to repair damage.
Help your pet recover from injury, surgery, chronic pain and loss of flexibility.
If pain is the problem, RECOVERY is a potent solution that targets the root causes of the pain. By inhibiting damage to cells, curbing inflammation, relaxing tension and increasing a cell's ability to receive hormones, RECOVERY often brings results far beyond expectations.
Reported Main Uses:
Excellent for athletic dogs
Improves canine endurance
Nutricol® is a proprietary bioflavonoid complex containing epigallocatechin gallate (EGCG), theaflavin, proanthocyanidins and resveratrol from Vitis vinifera (grape) and Camellia sinensis (green tea)
Strengthens bones, muscles and connective tissues
Helps prevent injury, reduces pain, inflammation and spasms
Increases endurance and flexibility
Ingredients: 
Each chewable tablet (2 grams/.07 oz) contains:
Nutricol® – bioflavonoid mix
(proprietary extracts of grape seed and green tea)
35 mg
methyl sulfonyl methane (MSM)
250 mg
glucosamine hydrochloride (plant source)
250 mg
betaine
 50 mg
L-lysine HCL
100 mg
vitamin C (magnesium ascorbate)
67 mg
vitamin E (natural d-alpha tocopheryl acetate)
 25 iu
elemental magnesium (magnesium ascorbate)
 25 mg
hyaluronic acid (sodium hyaluronate)
 7.5 mg
In a base of liver flavour, microcrystalline cellulose.
Directions: 1 tablet per 20 pounds body weight, 1-2 times daily, mixed with food, or as directed by your licensed health provider.