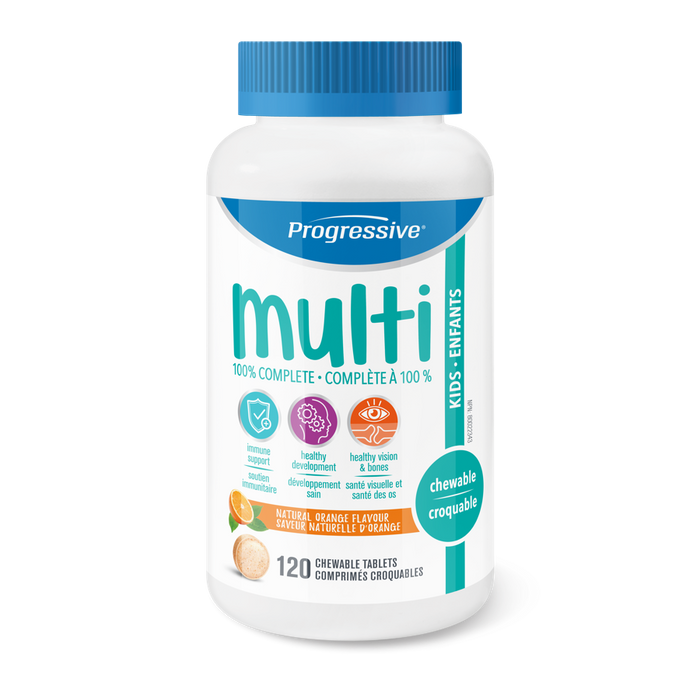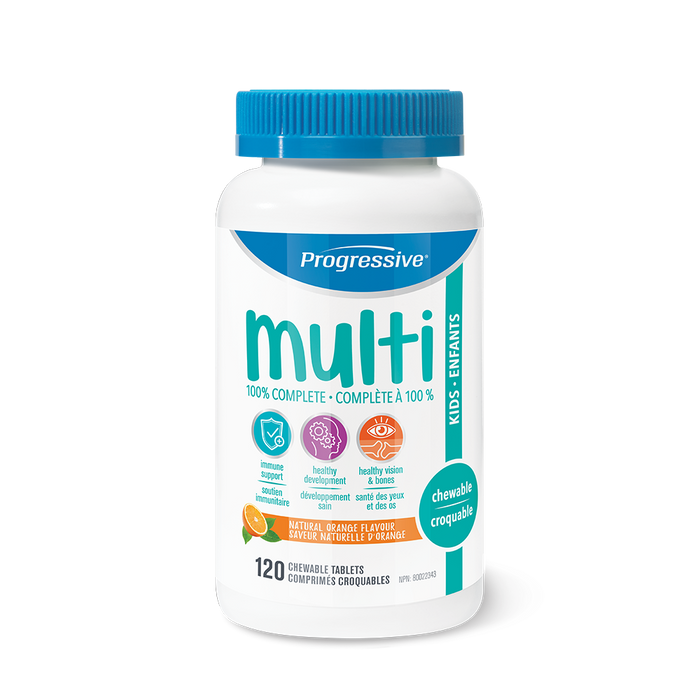 Progressive Multi Kids Chewable
Description & Features 
While your children are growing and maturing, the nutrients they consume play a critical role in ensuring not only robust health, but also their proper development both physically and mentally. Progressive Multivitamins for Kids offers a comprehensive strategy for supporting the unique nutritional needs of active children.
Vegetables & Green Foods
Whole Fruit Concentrates
Mineral Citrates
D3, Flax & DHA
Kid friendly taste
Aids in proper physical and mental development
Improves focus, concentration and mental acuity
Strengthens immune function & provides antioxidant protection
Ingredients:
Per One Capsule:
Vitamins:
Beta-Carotene 1,250 IU
[Provitamin A] 750 mcg
Vitamin A (Palmitate) 1,250 IU 375 mcg
Vitamin D3 200 IU (Cholecalciferol) 5 mcg
Vitamin E (d-Alpha Tocopheryl Acid Succinate) 15IU
Vitamin C (Calcium Ascorbate) 10 mg AT
Vitamin B1 (Thiamine Hydrochloride) 75 mg
Vitamin B2 (Riboflavin) 2.5 mg
Niacinamide (Ascorbate) 2.5 mg
Vitamin B6 (Pyridoxine Hydrochloride, Pyridoxal-5'-Phosphate) 10 mg
Vitamin B12 (Cyanocobalamin) 2.5 mcg
Folic Acid 5 mcg
Biotin 50 mcg
Pantothenic Acid (Calcium D-Pantothenate) 50 mcg
Choline (Bitartrate) 12.5 mg
Inositol (Myo-Inositol) 2.5 mg
Minerals:
Calcium (Citrate, Ascorbate, Carbonate) 65 mg
Magnesium (Citrate, Oxide) 32.5 mg
Iron (Citrate) 600 mcg
Zinc (Citrate) 400 mcg
Essential Fats:
Flax Seed Oil (Linum usitatissimum, Seed) 5 mg
Sunflower Oil (Helianthus annuus) 5 mg
Fish Oil (Tuna) (standardized to 7% DHA) 5 mg
Support Nutrients:
DL-Alpha-Lipoic Acid 2.5 mg
Citrus Bioflavonoids 1 mg
Inulin 500 mcg
Cinnamon (Cinnamomum verum) 500 mcg
Ginger (Zingiber officinale) 100 mcg
Fruit Concentrates:
Mango (Mangifera indica) 4 mg
Guava (Psidim guajava) 2 mg
Blueberry (Vaccinium angustifolium, Fruit) 1.25 mg
Cranberry Extract (4:1)(Vaccinium macrocarpon, Fruit) 1.25 mg
Papaya Extract (4:1)(Carica papaya, Fruit) 1.25 mg
Pineapple (Ananas comosus, Fruit) 1.25 mg
Acerola Extract (5:1)(Malpighia glabra) 1.25 mg
Green Food and Vegetable Concentrates:
Alfalfa (Medicago sativa, Herb top) 1 mg
Spirulina (Spirulina platensis, Whole) 1 mg
Kelp (Ascophyllum nodosum, Whole) 1 mg
Broccoli (Brassica oleracea var. italica, Flower top) 1 mg
Kale (Brassica oleracea var. viridis, Leaf) 1 mg
Wakamé (Alaria esculenta, Whole) 1 mg
Spinach (Spinacia oleracea, Leaf) 1 mg
Carrot (Daucus carota, Root) 1 mg
Tomato (Solanum lycopersicum, Fruit) 1 mg
Beetroot (Beta vulgaris, Root) 500 mcg

Non-Medicinal: Natural Orange Flavour, Citric Acid, Malic Acid, Stevia Leaf Extract, Honey Powder, Maple Sugar, Xylitol, Fructose, Silica.
Dosage: Children (age 4−8 years): Chew 1 tablet daily with breakfast or as recommended by a health care practitioner. (age 9−13 years): Chew 1 tablet with breakfast and 1 tablet with dinner for a total of 2 tablets per day, or as recommended by a health care practitioner.