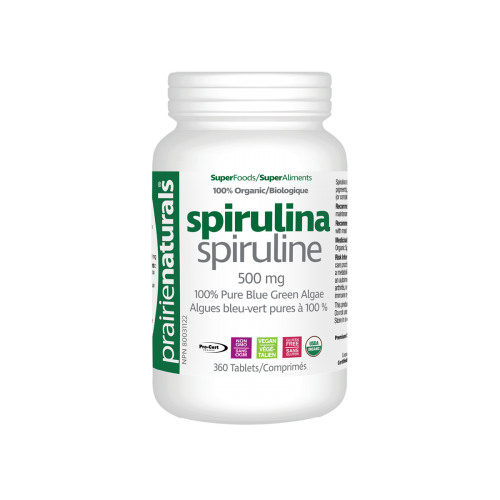 Prairie Naturals Spirulina Tablets
Description & Features
 These tiny, single-celled freshwater micro algae contain an impressive 60% protein content! This lean & green protein source is also a natural source of minerals, including iron, calcium, and magnesium. Its high levels of B12 and protein make it the perfect addition to the diet of vegetarians. Spirulina contains all the essential amino acids and essential fats, along with complex carbohydrates, fibre, a wide range of vitamins and minerals including antioxidants, carotenoids (especially lutein) and nucleic acids. Researchers have found that Spirulina intake reduces blood cholesterol and inflammation. Regular supplementation with Spirulina also removes accumulated toxins in the body, creating a gentle and safe daily cleansing effect.
Super green food • Proven fat-fighter • Effective Anti-inflammatory
Certified Organic
Ideal for adding to smoothies
High Protein & Vitamin B12
Ideal for vegetarians
Increases energy
Stimulates internal cleansing
Promotes optimal immune function
NO artificial flavours, colours, preservatives, sweeteners or hidden sugars
100% VEGAN
Non-GMO
Ingredients
Powder: 
Medicinal Ingredients:  Each serving contains:
Organic Spirulina (Spirulina platensis) , whole plant – 4g
Tablets:
Medicinal Ingredients: Each tablet contains:
Organic Spirulina (Spirulina platensis, whole plant) – 500 mg
Non-Medicinal Ingredients: silicone dioxide
Directions
(Adults): Take 4 tablets four times a day with meal or as directed by qualified health care practitioner. 
OR
Take 1 rounded teaspoon (4g) once or twice a day or as directed by qualified health care practitioner. You can stir a rounded teaspoonful of spirulina powder into a glass of water or juice and drink it straight, or you can add some to a smoothie.
Cautions & Warning: Consult health care practitioner if you are pregnant or breastfeeding, you have a metabolic condition called phenylketonuria (PKU), you have an autoimmune disease such as multiple sclerosis, rheumatoid arthritis or lupus, you are taking drugs that suppress the immune system or you are taking lipid lowering drugs; or you are a tabacco smoker. This product has been sealed for your protection. Do not use if seal is broken. Keep out of reach of children. Store in a cool, dry place.