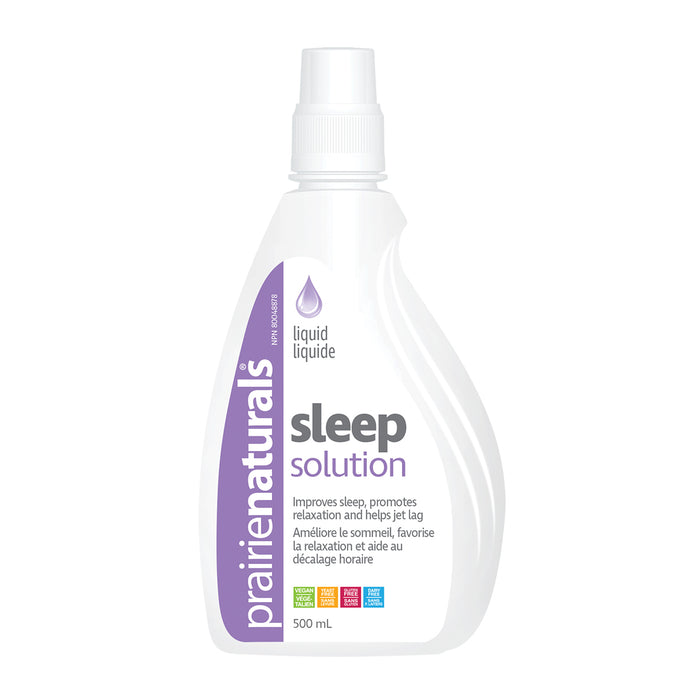 Prairie Naturals Liquid Sleep Solutions
Description & Features
If you have ever felt sluggish and groggy after a poor bedtime, you understand how a lack of sleep can impact your ability to function. A healthy amount of night rest is vital for the brain's ability to adapt to input. If we don't get enough bedtime, our ability to process information is impaired.
Researchers now recognize that adequate sleep is as essential for good health, as diet and exercise. Experts recommend at least 7 to 9 hours of snooze a night for most people and those who regularly get fewer than 6 hours of sleep may be at a higher risk for degenerative conditions such as diabetes, heart disease, stroke and cognitive decline.
Sleep Solution is a safe, non-habit forming, liquid sleep aid designed to quickly ease the transition to a restful state. Formulated with Lemon Balm, Passion Flower, L-Theanine, 5HTP, Melatonin and PharmaGABA®, a natural and superior form of GABA, Sleep Solution will help your bedtime soundly and wake up feeling refreshed, never groggy.
Prairie Naturals Liquid & Ionic Solution products have been helping Canadians Live the Healthy Life for over 15 years. In a solution, the active ingredients are completely dissolved in a liquid ionic form, ready for highest possible absorption. Our therapeutic formulas offer effective support to address common health concerns naturally.
Health Canada approved formula to support healthy sleep & jet lag
Contains therapeutic dose of Pharma GABA ®
Melatonin helps regulate the natural sleep cycle to prevent or reduce jet lag
5HTP to help promote sleep and stimulate your body's natural production of melatonin
Pleasant tasting, gentle lemon flavour
Shelf-stable, travel-ready
No refrigeration needed
Yeast-free, dairy-free
Non-GMO, gluten-free, vegan
Non habit-forming
Carrageenan-free
Keto & Paleo friendly
Recommended Dose Adults: Take 2 Tablespoons (30mL) with food once a day at or before bedtime or as directed by a health professional. For jet lag, adults take 2 Tablespoons with food at bedtime, while travelling, and at destination until adapted to the new time zone. Consult a health care practitioner/professional for use beyond 4 weeks.
Medicinal Ingredients: Each 2 Tbsp. (30 ml) contains:
Pharma GABA: Gamma-aminobutyric acid (Laminaria japonica)   –   100 mg
Lemon Balm Leaf Extract 4:1 (Melissa officinalis)   –   120 mg
Passion Flower Herb Extract 4:1 (Passiflora incarnata)   –   120 mg
L-Theanine   –  100 mg
5-HTP: L-5-Hydroxytryptophan (Griffonia simplicifolia)   –   35 mg
Melatonin   –  3 mg
Non-Medicinal Ingredients: Purified water, citric acid, xanthan gum, potassium sorbate, natural lemon flavour, stevia, xylitol.