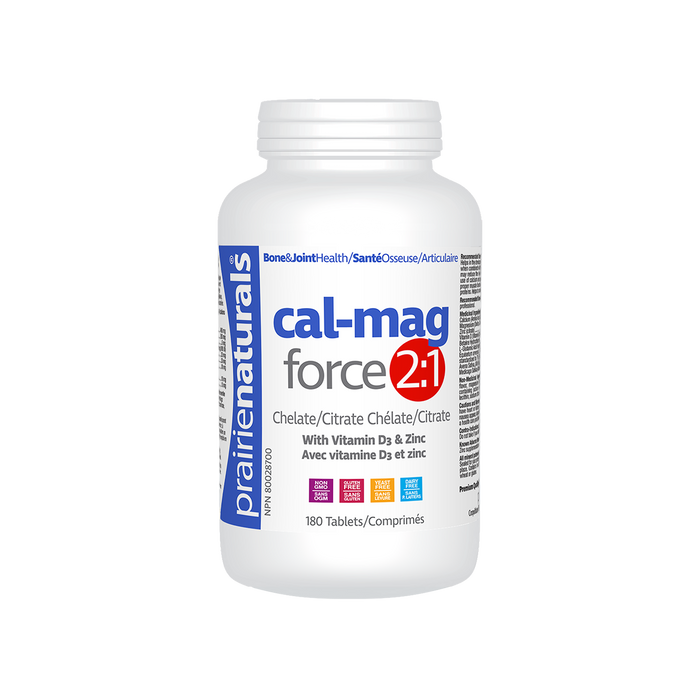 Prairie Naturals Cal-Mag Force 2:1
Description & Features 
Prairie Naturals Cal-Mag Force 2:1 provides an optimum potency ratio of calcium to magnesium with 400mg of calcium citrate/calcium chelate and 200mg of magnesium in addition to Vitamin D and zinc for optimal absorption.
This highly bioavailable formula is utilized easily by the body. Cal-Mag Force 2:1 tablets are an excellent choice for those at risk of osteoporosis or anyone wishing to "bone up" on bone-protecting nutrients. Taken at bedtime it can help to promote muscle relaxation and better sleep. Tested gluten-free. Contains NO soy, dairy, eggs, gluten, flavours, colours, preservatives, sweeteners.
Helps in the development and maintenance of bones and teeth. Calcium intake when combined with sufficient vitamin D, a healthy diet, and regular exercise may reduce the risk of developing osteoporosis. Helps in the absorption and use of calcium and phosphorus. Helps in tissue formation. Helps to maintain proper muscle function. Helps the body to metabolize carbohydrates, fats and proteins. Helps to maintain immune function. Helps to maintain healthy skin.
Formulated with highly absorbable amino acid chelates & citrates
Nutritional support for bones & prevention of osteoporosis
Helps metabolize carbohydrates, fats & proteins
Relaxes & regulates muscle & nerve impulses
Contains vitamin D3 for better absorption
Helps maintain proper muscle function
Supports the central nervous system
Promotes healthy tissue formation
2:1 ratio calcium to magnesium
Improves heart health
Tested gluten-free
Ingredients:
Each tablet contains:
Calcium (Amino Acid Chelate, Citrate)   –  400 mg
Magnesium (Oxide, Citrate)   –  200 mg
Zinc (citrate)   –  6 mg
Vitamin D (Vitamin D3, Cholecalciferol)   –  2.5 mcg (100 IU)
Betaine Hydrochloride   –  30 mg
L-Glutamic Acid Hydrochloride   –  30 mg
Equisetum arvense L ( Horsetail ) 10:1 Extract   –  10 mg
standardized to 7% Silica, equivalent to 100 mg Horsetail
Avena Sativa, (Wild Oat, oatstraw)   –  10 mg
Medicago Sativa (Alfalfa, leaf, organic)   –  10 mg
Non-Medicinal Ingredients: Microcrystalline cellulose, natural peppermint flavor, magnesium stearate, croscarmellose sodium and coating solution containing sodium carboxymethylcellulose, dextrin, dextrose monohydrate, lecithin, sodium citrate and water.
Dosage: (Adults): 1 tablet 2 times daily or as directed by a health professional.
Cautions: Consult a health care practitioner prior to use if you have heart or kidney problems. Use with caution: if symptoms of allergy or nausea appear, discontinue use and consult a health care practitioner. Consult a health care practitioner prior to use if you have cardiovascular disease. Contra-Indications: Do not use if you are pregnant or breastfeeding. Do not take if you suffer from gastric hyperacidity or peptic ulcer. Known Adverse Reactions: Some people may experience diarrhea. Zinc supplementation can cause a copper deficiency. All mineral potencies are elemental. Sealed for your protection. Keep out of the reach of children. Store in a cool dry place. Contains no artificial preservatives, colour, dairy, sweeteners, starch, wheat or gluten.