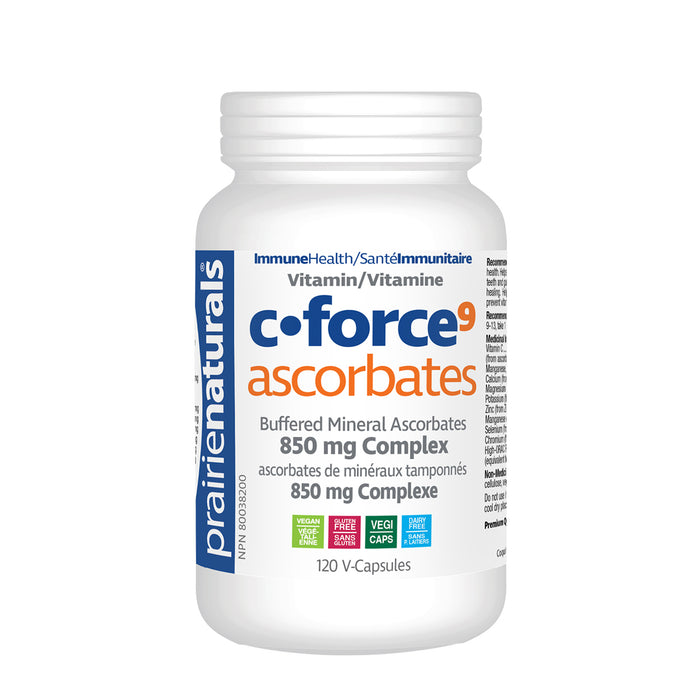 Prairie Naturals C Force 9 Ascorbates
Description & Features 
Prairie Naturals Vitamin C-Force Ascorbates provide a unique ascorbate complex that contains minerals: calcium, magnesium, potassium, zinc, manganese, selenium and chromium. Vitamin C-Force Ascorbates are further enhanced by the addition of an ORAC-rich fruit blend providing the equivalent of 2,500 mg of fruit and berry powders. Vitamin C-Force Ascorbates provide cellular protection against environmental toxins and damage from excessive free radical exposure
An antioxidant for the maintenance of good health. Helps in the development and maintenance of bones, cartilage, teeth and gums. Helps in connective tissue formation. Helps in wound healing. Helps the body to metabolize fats and proteins. Helps to prevent vitamin C deciency.
Buffered, non-acidic vitamin C
Includes important minerals
ORAC-rich fruit blend
Provide cellular protection
Fights damage caused by environmental toxins
Prevents free radical damage
Vegetarian capsules
Ingredients:
Each vegetable capsule contains:
Vitamin C     –     755.0 mg
(from ascorbate forms of Calcium, Magnesium, Manganese, Potassium, Zinc, Selenium and Chromium)
Calcium (from calcium Ascorbate)    –    37.1 mg
Magnesium (from Magnesium Ascorbate)    –    25.8 mg
Potassium (from Potassium Ascorbate)    –    23.1 mg
Zinc (from Zinc Ascorbate)    –    7.5 mg
Manganese (from Manganese Ascorbate    –    0.6 mg
Selenium (from Selenium Ascorbate)    –    50.0 mcg
Chromium (from Chromium Ascorbate)    –    5.0 mcg
High-ORAC Fruit Blend    –    20.0 mg
(equivalent to 2,500 mg of fruit and berry powder)
Non-Medicinal Ingredients: Magnesium stearate, microcrystalline cellulose, vegetable cellulose, purified water.
Dosage: (Adolescents and Adults only): Adolescents 9-13, take 1 capsule daily. Ages 14 and more, take 1 to 2 capsules daily.
Cautions: Do not use if seal is broken. Keep out of reach of children. Store in a cool dry place.