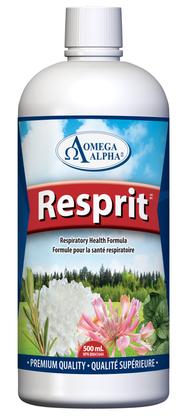 Description & Features 
Resprit is an all natural product that helps aid acute or chronic respiratory issues, sinus congestion, and allergies. Resprit comes in liquid form for fast and effective relief for people on the go. 
Dosage: Adults: Take 1 tablespoon (15 mL) one to two times per day. May be taken with or without food. Can be mixed with juice or water. Shake well before use.
Ingredients:
INGREDIENTS PER 1 TABLESPOON (15 mL):
Mentha haplocalyx Syn. Mentha canadensis (Peppermint Leaf) (Bo He)…………………….204 mg
Polygala tenuifolia (Thinleaf Milkwort Root) (Yuan Zhi)………………………………………….136.5 mg
Chrysanthemum x morifolium (Chrysanthemum Flower) (Ju Hua)…………………………..118.5 mg
Lonicera japonica (Japanese Honeysuckle Flower) (Jin Yin Hua)……………………………..118.5 mg
Scutellaria baicalensis (Baikal Skullcap Root) (Huang Qin)……………………………………….67.5 mg
Siraitia grosvenorii Syn. Momordica grosvenori (Grosvenor Momordica Fruit) (Luo Han Guo)….67.5 mg
Fritillaria thunbergii (Thunberg Fritillary Bulb) (Zhe Bei Mu)……………………………………………………51 mg
Morus alba (Mulberry Leaf) (Sang Ye)………………………………………………………………………………….34.5 mg
OTHER INGREDIENTS: Purified water, Citric acid, Cyamopsis tetragonoloba (Guar Gum), Potassium sorbate, Sodium benzoate, Urtica dioica (Stinging Nettle Leaf), Rosmarinus officinalis (Rosemary Leaf), Eucalyptus globulus (Eucalyptus Leaf), Stevia rebaudiana Leaf, Glycerine, Menthol, Cherry Flavour.
Contains no dairy, yeast, wheat or gluten.
Cautions: Do not use if you are pregnant, breastfeeding or allergic to plants of the Asteraceae/Compositae, and Labiatae family; have diabetes, hypertension, liver disorders, severe kidney insufficiency and/or hypokalemia. For prolonged use and if symptoms persist or worsen, consult a health care practitioner.