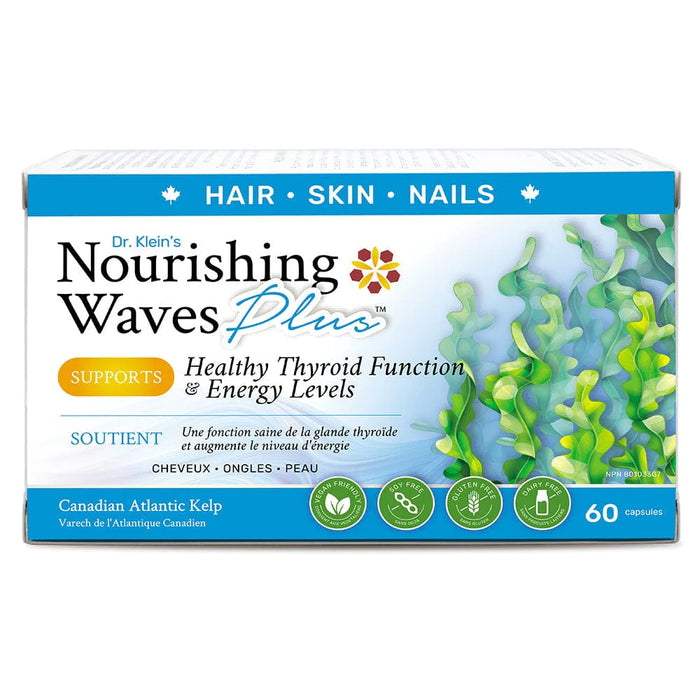 Nanton Nutraceuticals Nourishing Waves Plus
Nourishing Waves Plus is a natural liquid kelp concentrate with added therapeutic doses of silicon, biotin, selenium, magnesium, vitamin C, niacinamide, and vitamin B6 which are needed to support optimum health.
Recommended Dose & Ingredients
Recommended Dose
Liquid: Adults take one tablespoon once per day with water or juice. Refrigerate after opening. Pills: Adults take 2 capsules daily.
Medicinal Ingredients
Per 1 tablespoon or 2 capsules

 
Vitamin C

(ascorbic acid)

200 mg
Niacinamide
20 mg
Vitamin B6 

(pyridoxine hydrochloride)

10 mg
Biotin
500 mcg
Magnesium 

(magnesium bisglycinate)

200 mg
Iodine

(kelp, potassium iodide)

250 mcg
Selenium

(selenomethionine)

70 mcg
Silicon

(silicic acid)

84 mg
Contains trace amounts of over 60 naturally occurring vitamins, minerals, amino acids and enzymes. Non-medicinal Ingredients: Water, potassium sorbate and citric acid.