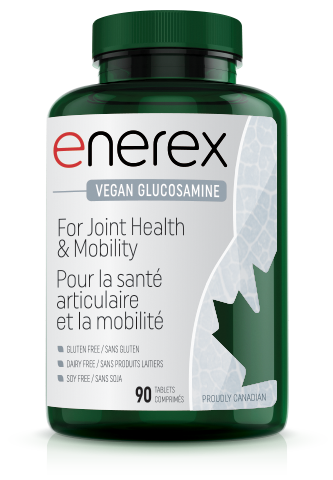 Description & Features
Each Enerex Vegan Glucosamine contains a high potency of 1,500 mg per tablet, a proven medicinal amount needed to help your body repair and prevent damage to cartilage in your joints from wear and tear, disease such as arthritis, or sports activities or injury.  This product is made from non-GMO corn starch so those with a shellfish allergy can comfortably use it.
Ingredients:
Each Tablet Contains:
Medicinal Ingredient:
Vegan Glucosamine Sulfate (GLS)
   (Glucosamine sulfate potassium chloride from fermented non-GMO corn starch)
1500 mg
Non-Medicinal Ingredients: Croscarmellose sodium, calcium phosphate, vegetable magnesium stearate, microcrystalline cellulose, vegetable stearin, vegetable cellulose.
Directions: ADULTS: Take 1 tablet daily with food or as directed by a health care practitioner.
Cautions:
This product is safe for seafood & shellfish allergies.
Use for a minimum of 4 weeks to see beneficial effects. Consult a health care practitioner if symptoms worsen. Do not use if you are pregnant or breastfeeding or consult a health care practitioner prior to use.
Store in a cool, dry place. Keep out of reach of children.