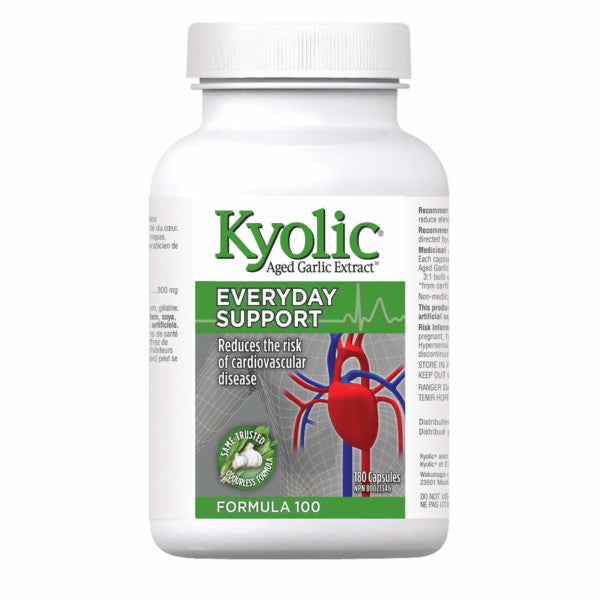 Wakunaga of America Co Kyolic Aged Garlic Extract
Description & Features 
This formula supports and strengthens your cardiovascular system by maintaining circulatory function and promoting overall heart health.
Kyolic Aged Garlic Extract™ begins with 100% organically† grown garlic from California. It is then aged to perfection in a unique extraction process to eliminate odour and create beneficial compounds found only in Kyolic.
Take the best – Kyolic Aged Garlic Extract™, the most scientifically researched, highest quality, and best-selling odourless Sociable Garlic®.
Recommended use: For reducing the risk of cardiovascular disease.
Kyolic Aged Garlic Extract formulas are odourless and gentle on the stomach, thanks to the unique aging process.
Free of: GMOs, sodium, yeast, preservatives, sugar, gluten, artificial colours or flavours.
Ingredients:
Serving Size 2 tablets/capsules
Amount per serving% Daily ValueAged Garlic Extract™†† Powder (bulb)600mg****Daily Value not established
††Special Garlic Preparation
OTHER CAPSULE INGREDIENTS: Gelatin, whey, and magnesium stearate.
Dosage: Take two capsules twice daily with a meal, or as directed by your healthcare practitioner.