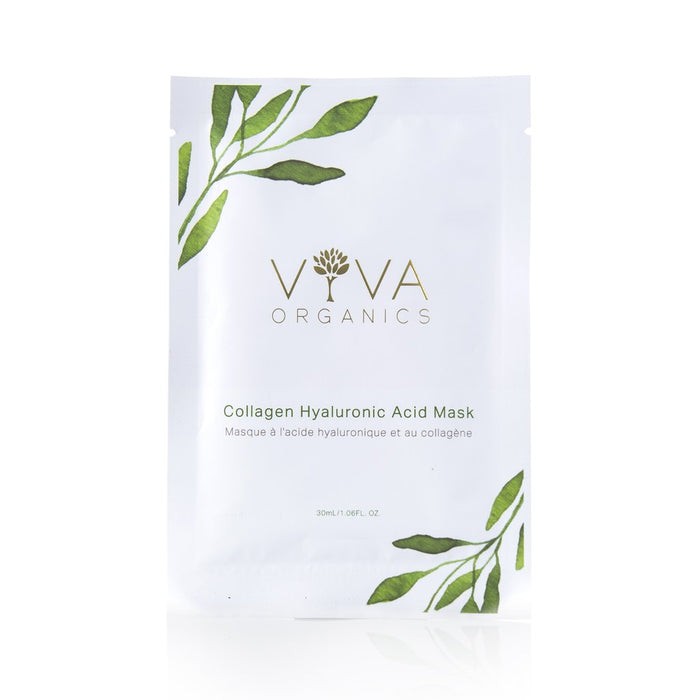 Viva Collagen Hyaluronic Acid Mask
Description & Features
Get the benefits of pure hyaluronic acid serum's intensive skin rehydration in our newest facial mask – Viva's Collagen Hyaluronic Acid Mask. Contains pure hyaluronic acid serum that plumps up the skin creating smooth and youthful looking skin. 
Collagen Hyaluronic Acid Facial Mask's key natural ingredient, Sodium Hyaluronate, is extracted from a vegetable similar to a wild yam, acts like a sponge drawing moisture in while also stimulating the production of collagen, resulting in skin that glows. Our collagen is made with a marine source.
This unique and customized facial serum mask is the next level of skin hydration. Helps repair damaged skin due to collagen loss while softening fine lines and wrinkles, leaving you looking and feeling younger.
Benefits:
Improves elasticity
Smoothes wrinkles
Firms the skin
Assists in collagen production
Ingredients:
Aqua(Purified Water) , *Vegetable Glycerin, Pro-Vitamin B5, Sodium Hyaluronic(Cosmetic grade), Hydrolyzed Collagen (Plant), Methysulphonylmethane(MSM), Lactobacillus Ferment, Radish Root Ferment Filtrate, Hydroxyethylcellulose, Xanthan Gum, *Citrus Bergamia (Bergamot) Essential Oil, *Cymbopogon Citratus (Lemongrass) Essential Oil, Cananga Odorata (Ylang Ylang) Essential Oil,Potassium Sorbate*Certified Organic
Directions:
Cleanse the face.
Open the sachet , take out mask and unfold it.
Lay the mask over the face and hang on ears, pull it taut, apply pressure and allow it to take effect for 20 to 30 minutes. 
Take off the mask and gently massage the remaining substances.
Rinse off with lukewarm water.
You may apply appropriate day or night care treatment.
Recommended: once or twice a week.
Note:
Avoid contact with eyes. If the content of a mask gets into the eyes, rinse it off with water.
If any irration occurs, take off the mask and rinse off with water.
Not to use mask if the skin is irritated or has any bare patches.
Patch test recommended.