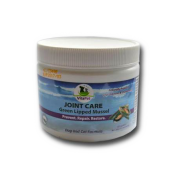 VitaPet Joint Care Green Lipped Mussel
VitaPet Joint Care Green Lipped Mussel is natural, safe and highly effective as a preventative and treatment for arthritis, joint injuries and overall well-being for your pet.
VitaPet Joint Care is 100% Pure Green Lipped Mussel, and contains a source of
-Omega 3s
-Glucosamine & Chondroitin (GAG's)
-Vitamin C & E
-Copper, Zinc & Manganese all of which can help improve and repair joint function or simply maintain healthy joints.
Active Ingredients per Scoop:
New Zealand Green Lipped Mussel……….250mg
No artificial flavours, sweeteners, preservatives or colours used in this product.
Directions for Use:
Up to 5kg – 1 scoop daily
6kg–25kg – 2 scoops daily
26kg–34kg -3 scoops daily
Over 35kg – 4 scoops daily