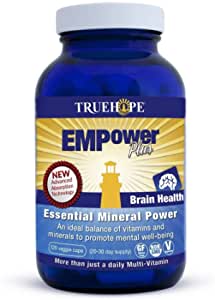 Truehope EMPower Plus Essential Mineral Powder Brain Health
Description & Features
The unique technology used to create EMPowerplus Advanced allows the body to rapidly absorb and use these essential elements for optimum physical and mental health. In 1999, the first version of EMPowerplus was created with the best technology available at the time. The technologies used in 1999 are still considered to be superior to more than 90% of supplements sold on the markets today. Even with the best technology available, the initial dose of EMPowerplus was 48 capsules per day to achieve a therapeutic dose. Today, Truehope uses its own technology that allows us to achieve even better results on as little as 4 capsules per day. That's a 1200% increase in absorbability!
EMPowerplus Advanced is a unique, micronutrient formula proven effective in reducing or eliminating the symptoms of bipolar, anxiety, depression, and ADHD. 35 medical journal publications, plus many individual doctors' observations, have shown significant reductions in the symptoms of bipolar and other mental disorders.
These 35 publications, plus several more current and ongoing studies, make EMPowerplus Advanced the most studied micronutrient formulation in the world for mental conditions. Studies in animals also suggest EMPowerplus Advanced can improve brain-cell health and cognitive functioning.
EMPowerplus Advanced is a safe, effective, all-natural formula for common mood disorders.
Ingredients:
Supplement Facts

Serving size: 2 capsules
Servings per container: 60
Amount per serving
% DV
Vitamin A (as retinyl palmitate)
768 IU
16
Vitamin C (as ascorbic acid)
80 mg
134
Vitamin D (as cholecalciferol)
192 IU
48
Vitamin E (as d-alpha tocopheryl succinate)
48 IU
160
Thiamin (as thiamin mononitrate)
2.4 mg
160
Riboflavin
1.8 mg
106
Niacin (as niacinamide)
12 mg
60
Vitamin B6 (as pyridoxine hydrochloride)
4.8 mg
240
Folic acid
192 µg
48
Vitamin B12 (as cyanocobalamin)
120 µg
2000
Biotin
144 µg
48
Pantothenic acid (as calcium pantothenate)
2.8 mg
29
Calcium (as chelate)
176 mg
18
Iron (as chelate)
1.8 mg
10
Phosphorus (as chelate)
112 mg
11
Iodine (from pacific kelp)
27.2 µg
18
Magnesium (as chelate)
80 mg
20
Zinc (as chelate)
6.4 mg
43
Selenium (as chelate)
27.2 µg
38
Copper (as chelate)
0.96 mg
48
Manganese (as chelate)
1.28 mg
65
Chromium (as chelate)
83.2 µg
70
Molybdenum (as chelate)
19.2 µg
27
Potassium (as chelate)
32 mg
1

Proprietary blend

355 mg
 
[Choline bitartrate, DL, phenylalanine, vanadium chelate, citrus bioflavonoids, inostol, L-glutamine, L-methionine, boron chelate, grape seed extract, ginkgo biloba leaf, germanium sesquioxide, nickel chelate]
%Daily Value (%DV) not established.
Other ingredients: gelatin, magneisum stearate, microcrystalline cellulose, glycine, citric acid, mineral wax, silicon dioxide, titanium dioxide.
Recommended Dose:
Shake the bottle well before using. Take 5 ml (1 tsp) in water or herbal tea, 3-4 times daily. Keep refrigerated and use within six weeks of opening.