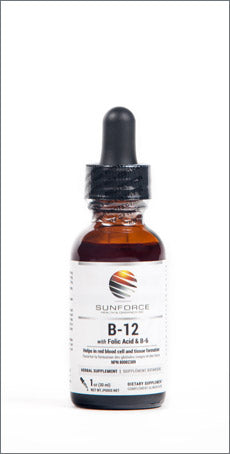 SunForce B-12 with Folic Acid & B-6
Description & Features
Liquid B-12 with Folic Acid & B6 provides optimal nutritional support in a liquid sublingual form that is quickly and easily absorbed into the bloodstream.
Ingredients:
Medical Ingredients: B-12, B-6, Folic Acid
Non-Medical Ingredients: Vegetable Glycerin, Deionized Water, Natural Flavors, Citric Aci
Recommended Dose:
Take 25 drops daily under the tongue and hold for 30 seconds or as directed by health professional. May be mixed with water or juice.
Shake well before using.