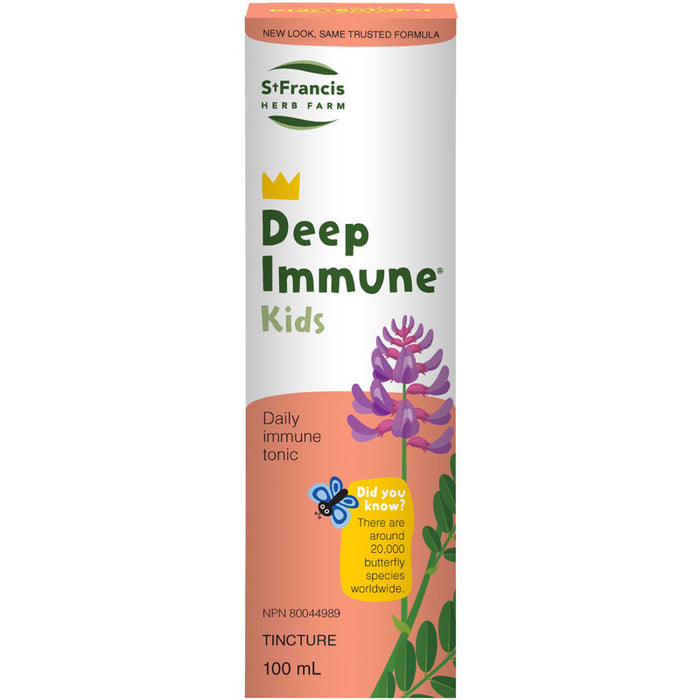 St. Francis Herb Farm Deep Immune Kids
A mild-tasting children's version of our Deep Immune® original formula.
Contains kid-safe herbs that support a healthy immune system and counter fatigue.
Helps to maintain immune defences.
Who It's For: Children 2 years and older, adolescents, and adults.
A balanced immune system is your child's strongest immune system!
Deep Immune® Kids maintains and fortifies children's immune health by supporting the body's innate balance and resiliency through the synergistic action of two powerful traditional, adaptogenic herbs. Deep Immune Kids® also acts as a vital energy tonic.
Medicinal Ingredients:
Astragalus (Astragalus membranaceus, root), Codonopsis (Codonopsis pilosula, root)
Non-Medicinal Ingredients:
Distilled water, Organic alcohol, Whey (from milk), Organic vegetable glycerine
Dosage:
Children (2-4 years): 0.75-1 mL (22-30 drops); Children (5-9 years): 1-1.5 mL (30-45 drops); Children & Adolescents (10-14 years): 2-3 mL (60-90 drops); Adults & adolescents (15 & over): 4.5-6 mL (135-180 drops). All doses should be taken 2 times daily in a little water or juice on an empty stomach.