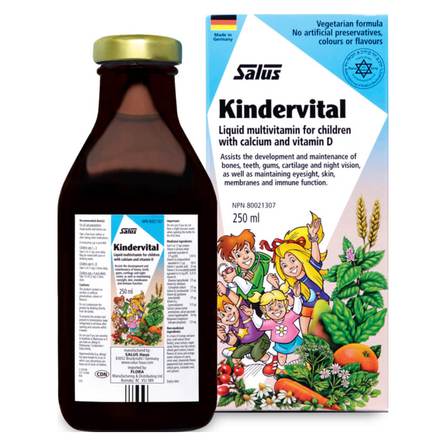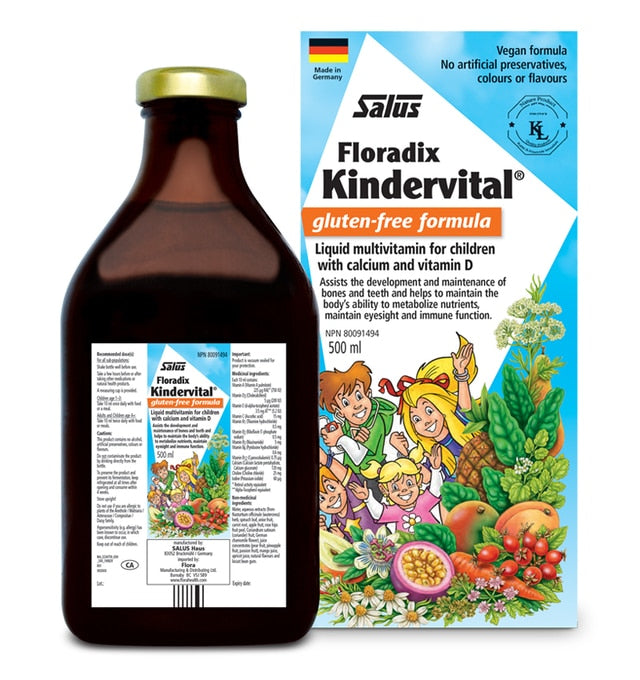 Salus Floradix Kindervital
Description & Features
Ensuring children hit all the nutritional marks can be challenging – the typical modern diet is chock full of processed, refined foods stripped of their nutrients, hardly ideal for growing bodies and minds. Add in busy schedules and picky eating habits, among other challenges, and parents have their work cut out for them. Thankfully, there's a delicious way for parents to provide their youngsters with the nutrition they need. Kindervital® is a delicious fruity tonic children love. It contains vitamins A, B, C, D, and E, as well as key minerals, and is thoughtfully prepared in a pure food base of delicious fruit juices, aqueous herbal and vegetable extracts, maple syrup, honey, rosehip, and other nutritious extracts, as well as mild digestive herbs to support a healthy appetite.
Ingredients:

Serving Size: 1 Teaspoon (5 mL)
Servings Per Container: 50 / 100
 
Per Serving
Vitamin A (all-trans retinyl palmaitate) [equivalent to 375 ug RAE]
1250 IU
Vitamin D3 (cholecalciferol) [equivalent to 2.5 µg]
100 IU
Vitamin C (ascorbic acid)
25 mg
Vitamin E (d-a-tocopheryl acetate) [equivalent to 4.2 mg ATE]
6.25 IU
Vitamin B1 (thiamine hydrochloride)
375 µg
Vitamin B2 (riboflavin-5-phosphate sodium)
375 µg
Vitamin B3 (nicotinamide)
2.5 mg
Vitamin B6 (pyridoxine hydrochloride)
375 µg
Vitamin B12 (cyanocobalamin)
0.15 µg
Calcium (calcium lactate pentahydrate, calcium gluconate, calcium hypophosphate)
50 mg
Magnesium (magnesium hydrogen phosphate)
7.25 mg
Non-Medicinal Ingredients: In a base of orange and pear juice, malt extract (from barley), yeast extract, maple syrup, honey, rose hip extract, wheat germ extract, natural flavour of cocoa and orange, water, infusion of carrot, anise seed, chamomile flower, peppermint leaf, watercress, wheat germ, coriander seed and spinach. 
Directions:
Shake bottle well before use. Take a few hours before or after taking other medications. A measuring cup is provided.

Children age 1 – 3: Take 5 ml (1 tsp) once daily. May be mixed with juice or drinking water.

Children age 4 – 8: Take 5 ml (1 tsp) 2 times daily.

Children age ≥ 9 and adults: Take 10 ml (2 tsp) 2 times daily.