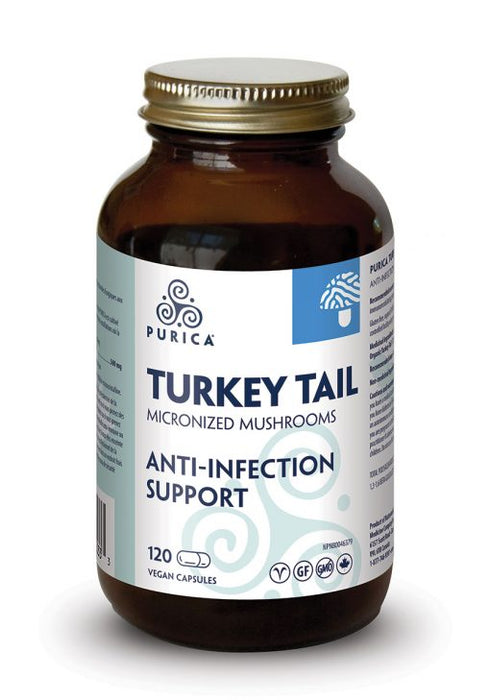 Description & Features 
Turkey tail (Coriolus) is undoubtedly the most common fungus in the world and one of the most important medicinal mushrooms to promote energy, longevity and rejuvenation. Turkey tail has been used for hundreds of years as a natural treatment for many sicknesses.
This potent mushroom is perhaps the most potent and medicinal of all medicinal mushrooms. It increases the immune system response, which can counter chronic fatigue, reduces phlegm and is helpful for all pulmonary disorders; good for all liver, urinary, and digestive tract disorders.
Builds immunity
Prevents infection
Support the healthy function of the liver & protect against sickness associated with it
Prevent chronic fatigue while increasing energy and vitality
Immunomodulating
Antioxidant
Natural source of vitamin D
Ease infection in the upper respiratory tract
Ingredients:
Medicinal ingredients (per dose unit):
Coriolus
Turkey Tail – Coriolus (Trametes versicolor, whole mushroom)
500 mg
Organic, full spectrum mushroom, micronized for superior absorption and assimilation. Therapeutic grade. Gluten free.
PURICA's organic Coriolus is cultivated in a quality-controlled facility using only organic plant materials for the fuel source.
Non-medicinal ingredients: hypromellose, microcrystalline cellulose
Dosage: Adults: take 2-3 capsules 2-3 times daily.
Caution: Consult a health care practitioner prior to use if you have a medical condition or if you are taking prescription medication, if you have diabetes or if you are taking anticoagulant medications, if you have an autoimmune condition or are taking immunosuppressants. Do not use if you are pregnant or breastfeeding. Discontinue use and consult a health care practitioner if adverse reactions occur. Store in a cool dry place, away from children. Do not use if safety seal is broken.