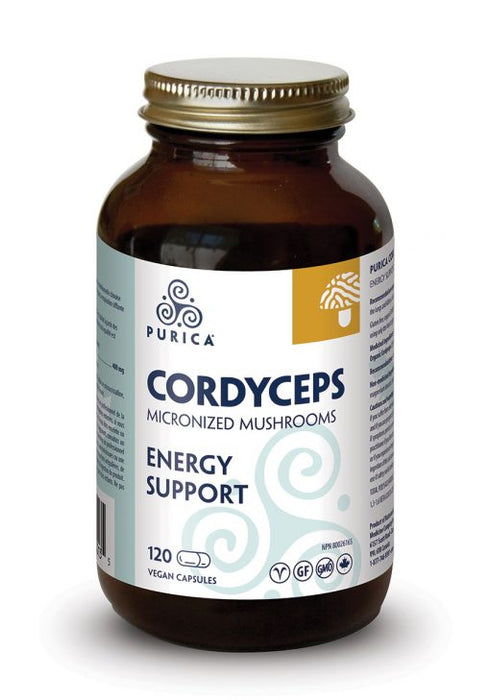 Description & Features 
The long history of Cordyceps tells of how it was used in Traditional Chinese Medicine for energy, sports and work performance.
Vitality
Energy
Immune enhancement
Adrenal insufficiency
Cardiovascular function
Endocrine/hormonal regulation
Adrenal function
Genitourinary and kidney function
Strengthen body and mind at a fundamental level
Increase our primary 'motive' force for life activities
Replenish expended energy from exertion, stress and aging
Improve lung capacity and efficiency
Restore physical stamina and recuperative ability
Improve appetite
Ingredients:
Each capsule contains (medicinal ingredients):
Cordyceps (Ophiocordyceps sinensis, whole mushroom)
400 mg
Organic, full spectrum mushroom, micronized for superior absorption and assimilation. Therapeutic grade. Gluten free.
PURICA organic Cordyceps is cultivated in a quality-controlled facility using only organic plant materials for the fuel source.
Dosage: Take 2 capsules 2 times daily.
Caution: Consult a TCM health care practitioner prior to use if you suffer from external pathogens or if symptoms persist or worsen; if you are pregnant or breastfeeding, or if you have any allergy to cordyceps, molds, or fungi. Hypersensitivity/allergy is sometimes known to occur, in which case discontinue use. Discontinue use and consult a health care practitioner if you experience irregular menstruation, amenorrhea or edema following ingestion of this substance. Store in a cool dry place, away from children. Do not use if safety seal is broken.