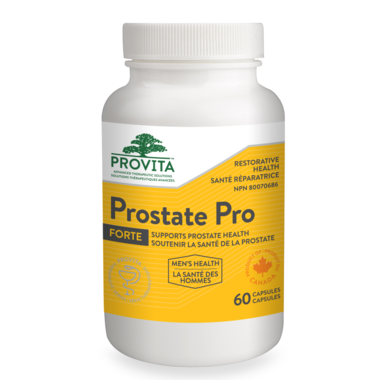 Description & Features 
Helps to support prostate health. Helps reduce the urologic symptoms associated with benign prostatic hyperplasia
Uniquely masterful and synergistic
Fast and highly efficient
Benefits felt within days
With Graminex® pollen extract
Recommended by naturopaths throughout Europe for more than 8 years, Prostate Pro formula has engaged a success rate of >98% (based on return customers). Its beneficial effects can be felt within days of administration.
Prostate Pro™ was developed to address painful and frequent nocturnal urination, treat and reduce the risk of inflammation and chronic conditions associated with benign prostatic hyperplasia, by addresing the root causes. This unique formulation includes 23 masterfully selected ingredients, for maximum overall effectiveness.
Ingredients:
Medicinal Ingredients
Each 2 Capsules Contain:
Phytosterols (Free plant sterols) 150 mg
(containing 80% Beta-Sitosterol, Campesterol and Stigmasterol)   
Saw Palmetto (Serenoa repens), 45% fatty acids 100 mg
Pygeum (Prunus africana), 12% Phytosterols 100 mg
Goldenseal (Hydrastis canadensis) 50 mg
Olive leaf (Olea europaea) 10: 1, 15% Oleuropein 40 mg
Stinging Nettle (Urtica dioica) 100 mg
Pumpkin seed oil 10:1 (Cucurbita pepo) 40 mg
Boswellia serrata (65% Boswellic acids) 100 mg
Graminex® Flower Pollen Extract 20:1 (QCE 1000 mg) 50 mg
DIM (3,3'-Diindolylmethane) 5 mg
Indole-3-carbinol 5 mg
Piperine (Piper nigrum) 10 mg
Rosmarinus officinalis PE 4:1 (QCE 80 mg) 40 mg
Lycopene 30 mg
Zinc (Zinc oxide) 30 mg
Selenium (Selenomethionine) 100 mcg
Copper (Copper Bisglycinate) 4 mg
Vitamin B6 (Pyridoxine Hydrochloride) 10 mg
Vitamin D3 (Cholecalciferol) 25 mcg
Boron (Sodium Borate) 700 mcg
L-Alanine 30 mg
Glycine 30 mg
L-Glutamic Acid 30 mg
Non Medicinal Ingredients Tricalcium phosphate, vegetable stearate, silicon dioxide, ascorbyl palmitate.   

Capsule shell: gelatin, natural blue color, titanium dioxide.   

Does not contain Dairy, egg, gluten, wheat, corn, yeast, nuts, artificial sweeteners, preservatives, colors or flavors.
Graminex® is a registered trademark of Graminex, LLC
Dosage: Adults take 1 capsule 2 times per day.
Caution
:
If symptoms persist or worsen, consult a health care practitioner. To exclude the diagnosis of prostate cancer, consult a health care practitioner prior to use. Some people may experience mild gastrointestinal disturbances such as diarrhoea, abdominal pain, heartburn, nausea and vomiting; in which case, discontinue use. If you are taking any other medications or natural health products, consult a health care practitioner prior to use, as piperine may alter their effectiveness. Consult a health care practitioner before taking if you are allergic to flower pollen. Discontinue use if abdominal upset or nausea occurs. If you are taking other diuretics, consult a healthcare practitioner prior to use. Hypersensitivity (e.g. allergy) has been known to occur; in which case, discontinue use.
Do not use if seal is broken. Keep out of reach of children. Keep sealed, store in a cool, dry place at 15–25ºC.