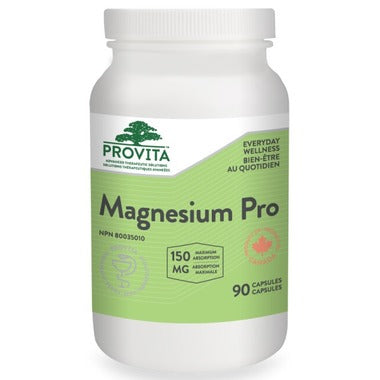 Description & Features
Combination of 4 types of magnesium associated with Vitamin B6 and Coral calcium for improved efectiveness
Benefits
Higher bio-availability

Higher efficiency
Magnesium Pro™ complex combines 4 excellent forms of Magnesium (Bisglycinate, Malate, Citrate and Oxide) with Coral Calcium and Vitamin B6 for maximized absorption, bio-availability and efficiency.
Magnesium is an essential mineral used in hundreds of body functions. Magnesium helps to maintain a healthy heart and blood pressure and it is essential for the assimilation of calcium into the bones and teeth. Furthermore, magnesium is one of the essential electrolytes maintaining the body's pH (alkaline) levels balanced.
A natural form of calcium from the Caribbean coral reef (coral calcium) has been added to provide additional trace mineral elements which may be less known but are also very important for our body.
Medicinal Ingredients
Each Capsule Contains:
Vitamin B6 (Pyridoxine Hydrochloride)
30 mg
Magnesium Bisglycinate
100 mg
Non Medicinal Ingredients
Microcrystalline cellulose, gelatin.
Does not contain
Dairy, egg, gluten, soy, wheat, corn, yeast, nuts, artificial sweeteners, colors, preservatives or flavors.
Recommended dose
Adults take 3 capsules per day, one capsule with each meal.
Cautions:
Some people may experience diarrhoea.
Do not use if seal is broken.
Keep out of reach of children.
Keep sealed, store in a cool, dry place at 15–25ºC.