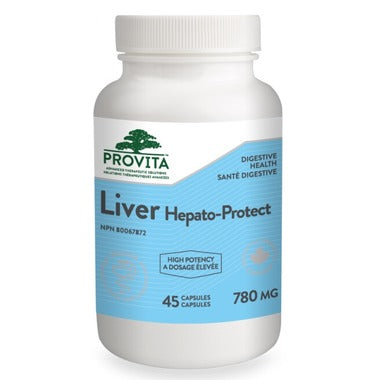 Description & Features
Liver Hepato-Protect™ is an orthomolecular formulation both unique and complex, targeting the nutrition, regeneration and effective detoxification of the liver.
A robust orthomolecular high-potency combination of ingredients traditionally used in herbal medicine to help maintain optimal liver functions such as glycogen storage, decomposition of red blood cells, plasma protein synthesis, hormone production, and detoxification.
Key Ingredients and their functions at a glance:
Milk Thistle (80% Silymarin) for its hepato-protective and detoxifying effects,
Artichoke, Dandelion and Black Radish for detoxification and regeneration of the liver and bile flow,
Alpha Lipoic Acid + L-Glutathione + Selenium for synergistic liver detoxification,
Curcumin 95%, a known antioxidant and liver anti-inflammatory recommended for all liver-related illnesses,
Fennel seed for ensuring the elimination of toxins stored in the liver fat tissue
Complex orthomolecular combination of synergistic fito-nutrients to support a healthy liver function

Improve liver function

Improve liver detoxification

Improve bile flow
Ingredients: 
Medicinal Ingredients
Each Capsule Contains:
Milk Thistle (80% Silymarin)
250 mg
Beet Root (Beta vulgaris)
150 mg
Black Radish (Raphanus sativus)
140 mg
Dandelion Root 10:1 PE
50 mg
Artichoke 15:1 PE (Cynara scolymus, ~5% Cynarin)
35 mg
Curcumin (95% Curcuminoids)
50 mg
Fennel Seed (Foeniculum vulgare)
50 mg
dl-Alpha Lipoic Acid
50 mg
L-Glutathione (reduced).
5 mg
Selenium (Selenomethionine)
10 mcg
Non Medicinal Ingredients
Microcrystalline cellulose, vegetable stearate, hypromellose (capsule shell).
Does not contain
Dairy, egg, gluten, soy, wheat, corn, yeast, nuts, artificial sweeteners, preservatives, or flavors.
Directions:
Adults take 1 capsule 1 to 2 times per day.
Use for a minimum of 3 weeks to see beneficial effects.
Cautions: Consult a health care practitioner if symptoms persist or worsen. Do not use if you have a bile duct obstruction. Consult a health care practitioner prior to use if you have diabetes. Consult a health care practitioner prior to use if you have gallstones, if you are taking antiplatelet medication or blood thinners or if you have stomach ulcers or excess stomach acid. Hypersensitivity, such as allergy, has been known to occur; in which case, discontinue use.