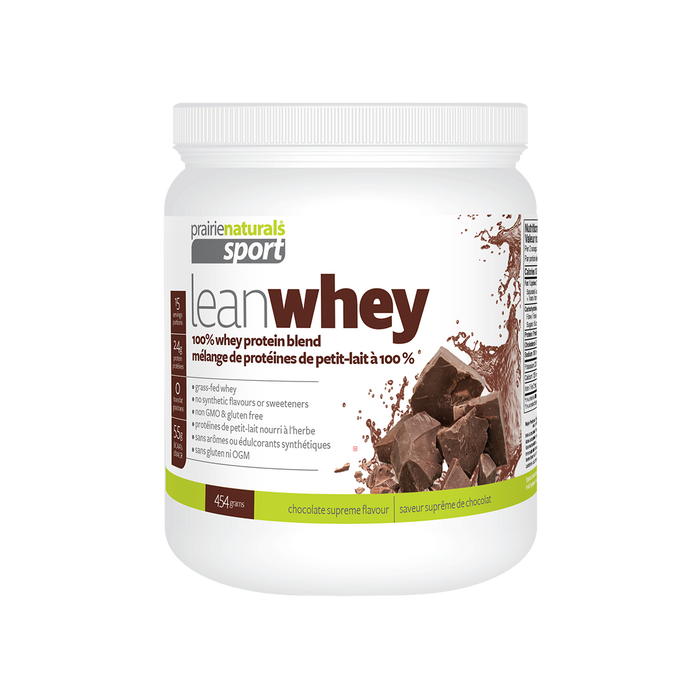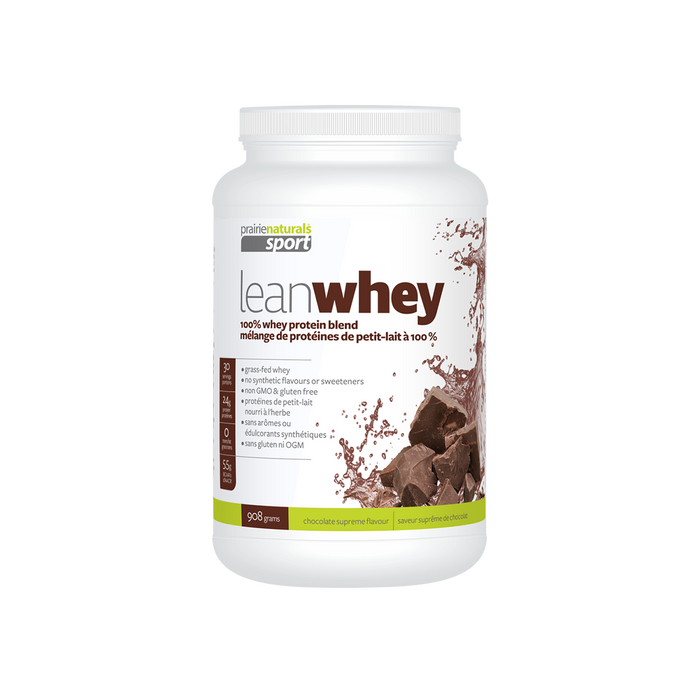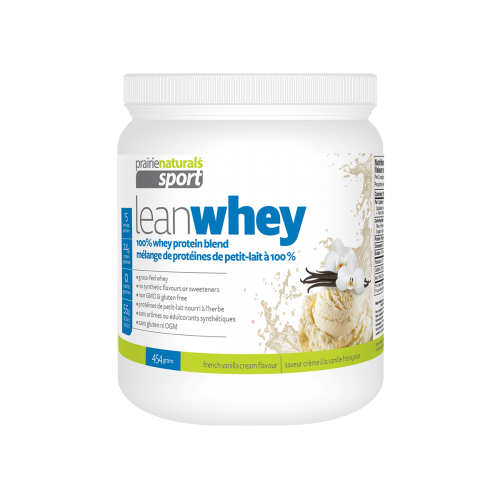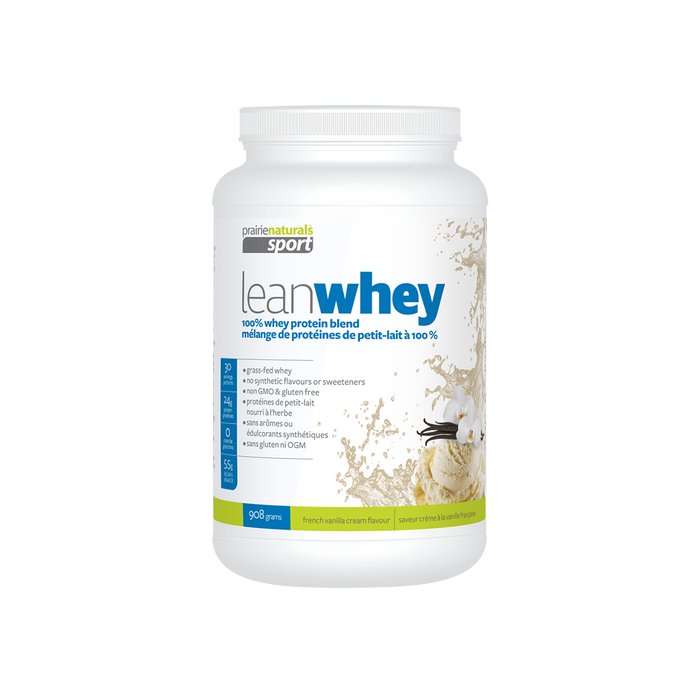 Prairie Naturals Lean Whey Protein
Description & Features
Get Lean and Stay Lean with LeanWheyTM!
This high quality, easily digested protein powder from Prairie Naturals promotes fat loss and increases lean muscle mass. A proprietary blend of pure, micro ultra-filtered, low- temperature process high quality whey proteins, LeanWhey™ is sugar-free and super low calorie. All natural. No artificial flavours, sweeteners or colours. Mixes instantly and tastes great. Available in 3 delicious, natural flavours.
All Pierce Performance Nutrition products are made using the highest quality ingredients in a certified GMP (Good Manufacturing Practices) facility that meets all Health Canada standards.
LeanWhey™ was formulated with two major objectives: To help you lose fat and gain lean muscle. Our proprietary, high protein, low-carb formula with digestive enzymes allows you to safely increase your protein intake and promote fat loss.
High quality blend of micro ultra-filtered whey protein concentrates & isolates
All-natural whey protein powder for people of all ages & fitness levels
Best-tasting high-quality whey protein powder in Canada
Higher protein & less fat than eggs, cheese & meat
Effective appetite satisfier & metabolic regulator
Easy to digest & well-absorbed protein source
Fortified with protein-digesting enzymes
Low calorie, low fat & low carbohydrate
No sugar, artificial flavours or colours
Supports weight management
Enhanced protein absorption
Natural lean muscle builder
Made with natural flavours
Delicious & convenient
Safe for diabetics
Mixes instantly
Gluten-Free
Economical
• Tastes Great! Mixes Instantly!
• Low carb, low calorie (only 130 per serving)
• High Protein – 24g of highly bio-available protein per serving
• 100% all natural ingredients – no artificial flavours, colours or sweeteners
• Cold temperature cross-flow microfiltration resulting in pure, undenatured, high microfraction, low lactose protein
• High in amino acids including BCAA's
• Strengthens immune system
• High in natural calcium for optimal bone health
• Safe and effective for all ages
• High-potency enzyme blend for maximum absorption
• Tested free of BSE and rBGH (bovine growth hormone)
Ingredients: 
Chocolate: Whey Protein Concentrate, Cocoa Powder, Natural Cream Flavour, Natural Chocolate Flavour, Xanthan Gum, Stevia Extract, Whey Protein Blend (Whey Protein Concentrate, Whey Protein Isolate), Papain, Bromelain, Enzyme Blend (Lipase, Amylase, Cellulase, and Protease). Contains Milk & Soy.
Vanilla: Whey Protein Concentrate, Xanthan Gum, Natural Ice Cream Flavour, Natural Vanilla Flavour, Stevia Extract, Whey Protein Blend (Whey Protein Concentrate, Whey Protein Isolate), Papain, Bromelain, Enzyme Blend (Lipase, Amylase, Cellulase, and Protease). Contains Milk & Soy.
Allergens: Soy & Wheat.
Directions: Mix 2 scoops (approximately 34 g) of LeanWhey™ powder in 250 mL of purified water, juice or desired liquid, shake vigorously or blend and enjoy. LeanWhey™ is the protein of choice for those wanting to get rid of excess fat and increase lean muscle.
Cautions: Consult a health care practitioner prior to use if you are pregnant or breastfeeding; if you have a liver disorder or develop symptoms of liver trouble; if you have an iron deficiency; or if you have diabetes. Rare, unpredictable cases of liver injury associated with green tea extract-containing products have been reported (in Canada and internationally). Stop use if you develop symptoms of liver trouble such as yellowing of the skin/eyes (jaundice), stomach pain, dark urine, sweating, nausea, unusual tiredness and/or loss of appetite and consult a healthcare practitioner.