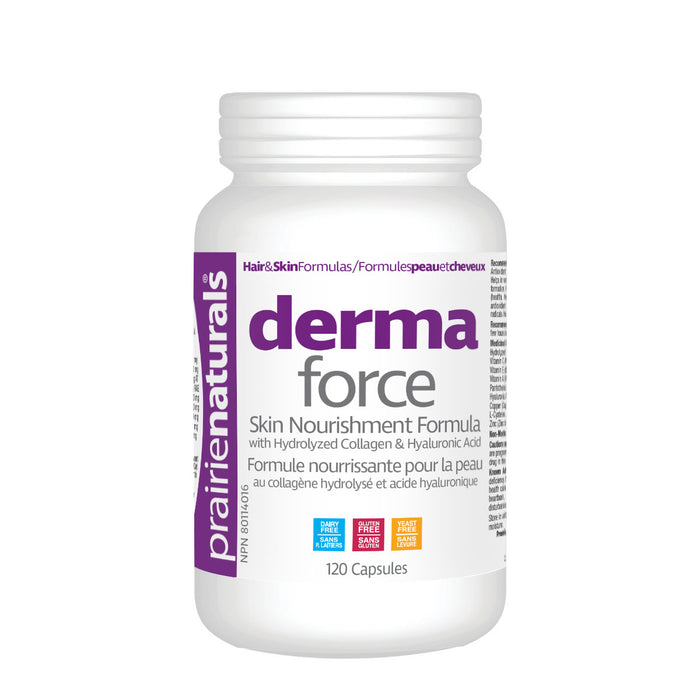 Prairie Naturals Derma Force
Description & Features
• 100% Grass-Fed Bovine Types I and III Collagen
• With hydrating hyaluronic acid
• Antioxidant Vitamins A, C and E plus Pantothenic acid
• Sulfur-rich cysteine for collagen formation and skin elasticity
• Zinc Bis-glycinate & Copper
• Gluten & Dairy Free
• Non-GMO
Our New Derma Force, anti-aging skin nourishing formula, is a potent mixture of hydrolyzed bovine collagen, hyaluronic acid, as well as vitamins A, C, E, pantothenic acid, l-cysteine, zinc and copper. As an oral supplement, Derma Force is dairy-free, gluten-free and yeast-free, making it a low allergen, formula for daily supplementation. Supplementing with both hydrolyzed collagen and hyaluronic acid, as well as their complementary nutrients, is a research proven way to help maintain healthy, vibrant looking skin.
Attending to our skin health as we age isn't just aesthetic. Aging occurs intrinsically and extrinsically. By supporting both with supplements like hydrolyzed collagen and hyaluronic acid, we can work to slow the signs and symptoms of aging.
Collagen is a primary structural protein found in our connective tissues. Natural collagen is found in our hair, nails, bones, tissues and muscles. As we age, our natural collagen production begins to decline. Supplemental collagen, in the right forms, contributes to continued strength and repair of all of the above.
Hyaluronic acid (HA) is a substance found in the fluids naturally produced by the body for general lubrication, cushioning and mobility. It can bind together over 1000 times its weight in water! It is commonly found and produced in connective, epithelial and neural tissues. HA is synthesized differently throughout the different layers of skin. It supports the skin's ability to retain moisture and is a key component of skin hydration. HA protects the body and supports functioning.
Vitamins A, C and E are nutrients that act as powerful antioxidants in the body, protecting us from free radical damage leading to the above signs of aging. Pantothenic acid, known for its skin hydrating and soothing properties, helps this formula to reduce excess inflammation and repair damaged skin. The combination of l-cysteine, zinc and copper health and protect skin as it ages. Copper encourages the synthesis of proteins in epithelial (skin) layers, contributing to the maximum function of the core compounds, hydrolyzed collagen and hyaluronic acid.
Prairie Naturals Derma Force is the nourishing formula for all your anti-aging skin needs. Supplementing orally to increase levels of these skin supportive nutrients encourages continued youth and vibrancy, from the inside out!
Recommended Dose: (Adults) Take 2 capsules daily with meals, a few hours before or after taking other medications.
Medicinal Ingredients: (Per V-Capsule)
Hydrolyzed Bovine Collagen (type I & III)…………………..200.0 mg
Hyaluronic Acid………………………………………………………..60.0 mg
Vitamin C (Ascorbic acid)…………………………………………..200.0 mg
Vitamin E (d-alpha-tocopheryl) (22.35 IU)…………………..15.0 mg AT
Vitamin A (Vitamin A acetate) (2,365 IU) …………………….700.0 mcg RAE
Pantothenic Acid ………………………………………………………..20.0 mg
L-Cysteine ………………………………………………………………….100.0 mg
Zinc (Zinc bisglycinate) ……………………………………………….25.0 mg
Copper (Copper gluconate) ………………………………………….0.9 mg
Non-Medicinal Ingredients: Hypromellose, microcrystalline cellulose.