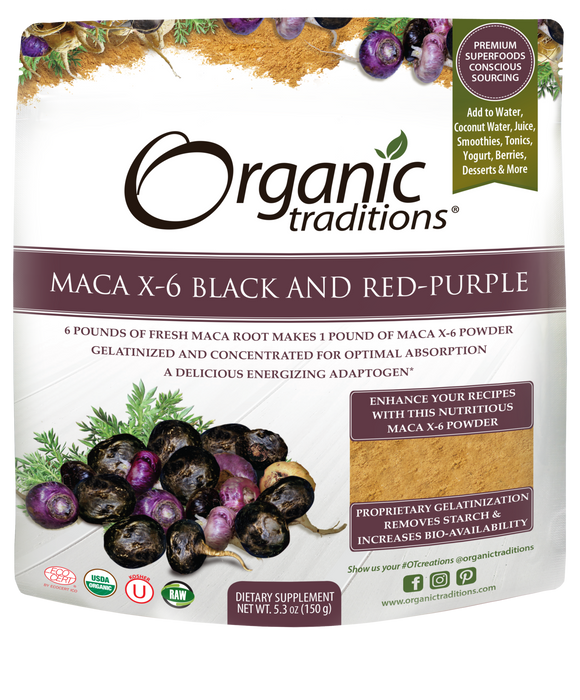 Maca X-6 Black and Red-Purple Powder
Description & Features
We're shining some light on the recently popular Maca powder. Maybe you've heard of Maca but you're not quite sure what it is or what it does, or perhaps you have no idea what it is but you've been eyeing those "adaptogenic" lattes that sound like they're going to give you your own superpowers (spoiler alert: they basically do!) Keep reading to learn all about Maca and how you could benefit from adding it to your diet!
Our Organic Maca X-6 Black and Red-Purple is gelatinized, increasing its digestibility and is a mixture of yellow, black and red-purple maca. Unlike most other maca powders which offer ground yellow maca, our Maca X-6 offers a concentration of 80% black maca, 15% red-purple maca and only 5% yellow maca. This means that you receive a higher concentration of higher quality maca as well as a higher concentration of phytonutrients thanks to the gelatinization process.
NUTRITION:
~ Notable amount of protein
~ Relatively high in dietary fiber
~ Rich in Vitamin C
~ High in Copper & Iron
BENEFITS:
~ Antioxidant rich
~ Energy & mood enhancer
~ Improved memory
~ Hormone balancing
~ May boost male fertility
Directions:  Begin with as little as ½ tsp and work your way up to as much as 2 tbsp.