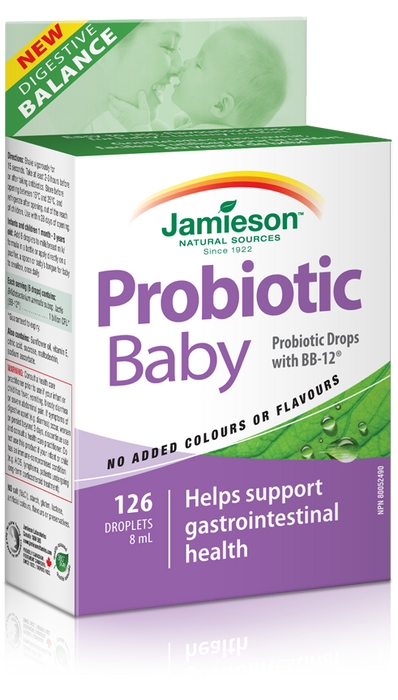 Description & Features 
Jamieson Probiotic Baby Drops is an easy-to-use liquid probiotic supplement, perfect for infants and children 1 month to 3 years old. It contains a unique Bifidobacterium strain called BB-12® that has been clinically studied in infants to support gastrointestinal health. The flavourless drops can be added to milk, breast milk or formula, or applied directly on a pacifier, spoon or your baby's tongue.
Dosage: 
Shake vigorously for 15 seconds. For infants and children 1 month to 3 years old add 6 droplets to milk/breast milk/formula in a bottle or apply directly on a pacifier, a spoon or baby's tongue for baby to swallow, once daily. Take at least 2-3 hours before or after antibiotics.
Ingredients:
Bifidobacterium animalis subsp. lactis (*BB-12®)
*Guaranteed to expiry. 

1 billion CFU
Also Contains:Sunflower oil, vitamin E, citric acid, sucrose, maltodextrin, sodium ascorbate.
NO salt (NaCl), starch, gluten, lactose, artificial colours, flavours or preservatives.
Cautions: 
Store between 15°C and 25°C, and refrigerate after opening. Use within 28 days of opening. If you have fever, vomiting, bloody diarrhea or severe abdominal pain, consult a health care practitioner prior to use. If symptoms of digestive upset (e.g. diarrhea) occur, worsen, or persist beyond 3 days, discontinue use and consult a health care practitioner. If you have an immune-compromised condition (e.g. AIDS, lymphoma, patients undergoing long-term corticosteroid treatment), do not use this product.