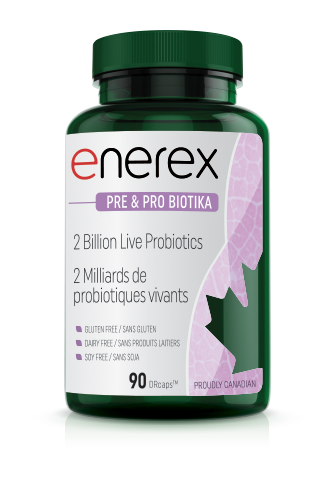 Description & Features
More than just effective, these 3 important and potent probiotic strains have been trusted and clinically proven in hospitals for over 30 years. Addressing the entire GI tract, these specific human origin strains improve and support your digestive and immune health as part of your daily health program. Stable at room temperature, they're perfect for travelling!
Ingredients: 
Each Vegetarian Capsule Contains:
Medicinal Ingredients:
| | |
| --- | --- |
| Lactobacillus acidophilus (La-14) | 1.6 billion cfu |
| Bifidobacterium bifidum (Bb-06) | 0.2 billion cfu |
| Bifidobacterium longum (Bl-05) | 0.2 billion cfu |

Non-Medicinal Ingredients:
| | |
| --- | --- |
| FOS* (fructo-oligosaccharides) Chicory | 100 mg |

Gellan gum, hypromellose (vegetarian cellulose complex DRcaps = Delayed Release capsule).
There are no other ingredients added to this formula.
*FOS (Prebiotic) increases the longevity of the probiotic cells in the digestive tract by 5 to 10 times.
Directions: 
ADULTS, ADOLESCENTS, CHILDREN (1 year and older): Take 1 capsule 3 times daily with meals or as directed by a health care practitioner. 
Cautions & Warnings:
Do not use if you are experiencing nausea, fever, vomiting, bloody diarrhoea or severe abdominal pain, or if you have an immune-compromised condition (e.g. AIDS, lymphoma, patients undergoing long-term corticosteroid treatment). Discontinue use and consult a health care practitioner if symptoms of digestive upset (e.g. diarrhoea) occur, worsen, or persist beyond 3 days.
Store in a cool, dry place. Keep out of reach of children.