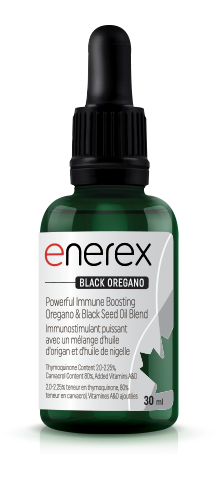 Enerex Black Oregano Drops
Description & Features
Enerex BLACK OREGANO blends two long-standing Mediterranean herbal oils. It combines pure Black Seed Oil and our wild-crafted Oregano Oil with antioxidant powerhouses Vitamin A and Vitamin D to provide a one-two punch to immune system invaders.
Why is this oregano black? BLACK OREGANO offers natural health support blending Black Seed Oil and Oregano Oil together with booster Vitamins A and D. Together, they provide a safe remedy for every household.
Black Seed Oil was used by the world's first physicians, but, like Oregano Oil, it has also been researched by modern science. In addition to Black Seed Oil's essential fatty acids that are vital to health, this blend offers an additional appealing "nutty" flavour that mellows the distinct Oregano taste.
Enerex BLACK OREGANO offers natural support by blending Black Seed and Oregano Oils with vitamins A and D. Vitamin A enhances the formula's disease-fighting functionality. Both Vitamin D & Vitamin A help maintain the healthy immune system functioning.
As director of defense, your immune system flies into action whenever invaders approach, supervising all lines to protect you – so that illnesses can't take hold – and then, it rallies the troops to heal. But when the season brings nasty ailments, or an infection causes lingering pain, your "defense management" may need help from an ally. Vitamins and herbs may offer assistance.
More on Black Seed Oil:
Black Seed, also called Nigella sativa, is new to mainstream natural health, but it isn't new to herbal remedies and herbal pharmacopoeias. Black Seeds were used by Egyptian pharaohs; found in King Tutankhamen's tomb, they were used by Queen Nefertiti, and are still used in Ayurvedic medicine.
Black Seed (Nigella sativa) is a part of the buttercup plant family and is used as a seasoning spice in Middle Eastern cooking. Black Seed contains over 100 active compounds including crystalline nigellone, thymoquinone and beta sitosterol.  Black Seed has abundant good fats: linoleic acid (omega 6), oleic acid (omega 9). Since 1959, Black Seed has been researched in over 200 clinical studies worldwide. Six medical patents have been granted for Black Seed for various conditions, and it has no known negative side effects.
Ingredients: 
Liquid - Each Drop Contains:
Medicinal Ingredients:
| | |
| --- | --- |
| Vitamin A (Palmitate) 33.3 IU | 10 mcg RAE |
| Vitamin D3 (Cholecalciferol) 50 IU | 1.25 mcg |
Softgel - Each Softgel Contains:
Medicinal Ingredients:
| | |
| --- | --- |
| Vitamin A (Palmitate) 100 IU | 30 mcg RAE |
| Vitamin D3 (Cholecalciferol) 150 IU | 3.75 mcg |
---
Non-Medicinal Ingredients: Blend of 40% solvent-free steam distilled Wildcrafted Mediterranean Oregano Oil(Origanum vulgare, min. 80% Carvacrol, leaf ) and 60% solvent-free cold pressed Mediterranean Black Seed Oil(Nigella sativa, seed).
There are no other ingredients added to this formula.
Directions: 
Take up to 3 drops 3 times daily with meals, diluted in water or juice.
Store in a cool, dry place. Keep out of reach of children.
May cause allergic reactions in individuals sensitive to the Lamiaceae family (Basil, Hyssop, Lavender, Mint, Sage).
Consult a health care practitioner prior to use if you are currently taking Lithium.
Do not use if pregnant or breastfeeding.