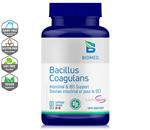 Biomed Bascillus Coagulans
Description & Features 
Intestinal Flora, Diarrhea, IBS Support
  ✔  Inhibits pathogenic bacteria growth
  ✔  Relieves abdominal pain & diarrhea associated with IBS
  ✔  Promote a healthy gastrointestinal system
  ✔  Diarrhea after bacterial infections or antibiotics
  ✔  Shelf & acid stable
  ✔  No refrigeration required
Bacillus Coagulans is a shelf-stable lactic acid probiotic that helps restore healthy flora in the intestinal tract by maintaining the stability and diversity of the gut microbiome. It is used to relieve abdominal pain and diarrhea associated with IBS and is especially useful in cases of diarrhea after bacterial infections or antibiotics.
B. coagulans
spores activate in the acidic environment of the stomach, and then germinate, multiply, and become metabolically active in the intestines. This LactoSpore®
Bacillus coagulans
(MTCC 5856) species produces the favoured L+ lactic acid, inhibiting pathogenic bacteria growth and normalizing pH to create an ideal environment for the residential gut microbiome.