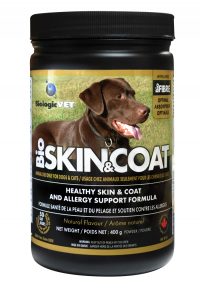 Biologic Vet Bio Skin & Coat
Description & Features
Healthy Skin, Coat and Allergy Support
BioSKIN&COAT is a natural, bioflavonoid based antihistamine that targets histamine receptors—where the central allergy response takes place. BioSKIN&COAT is developed to promote skin and coat health by supporting normal immune system and histamine response to allergens. Added to an organic, whole food, seed-cake to optimize palatability and nutrient bioavailability,
GMO-Free BioSKIN&COAT was designed specifically for the canine and feline metabolism and gastrointestinal tract, with biologically active ingredients that have not been exposed to oxidation.
Does not contain any artificial: flavours, colours or binders.
Dogs and Cats, of any age, with a predisposition to seasonal allergies
Dogs and Cats showing signs of hotspots and/ or yeast overgrowth
Preventive measures in cats or dogs
Supports healthy immune response
Maintains healthy inflammatory response
Provides antioxidants to help reduce the oxidative damage from free radicals
DIRECTIONS FOR USE
Administer orally. Mix one half scoop (2.5 g) per 4.5 kg (10 lb) of body weight to a maximum of 6 scoops daily. Add to raw, moist or dry food. If desired, add water to make a gravy-like paste. For best results, divide between two meals.
Scoop included. 1 Scoop = 1 TBSP