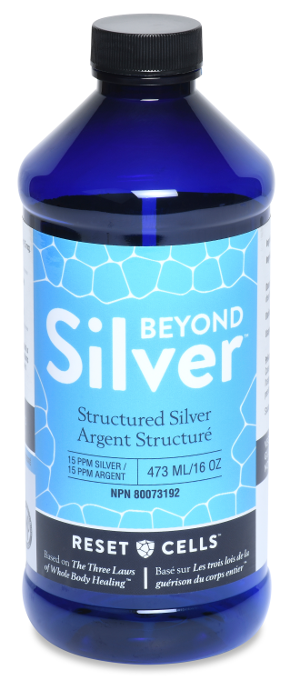 Beyond Silver Structure Silver
Description & Features 
Beyond Silver liquid looks, smells, and tastes like water. That's because it literally is 99.9985% water.
Structured silver is a quantum leap ahead of older silver technologies like silver hydrosol and colloidal silver. The research and development to create it spanned several years, including numerous improvements and breakthroughs. Throughout this research, many silvers were produced and tested against each other by third-party labs to find the best silver possible. Structured silver is the end result of this research.
Beyond Silver has only two ingredients and is free of additives, preservatives, or other artificial ingredients. It also has a mild alkalinity, unlike the older acidic silvers.
Beyond Silver's liquid structured silver can be used in many ways, but the most commonly suggested use is to "drink two teaspoons, twice per day."
Dosage:
 2 teaspoons twice a day. 
Ingredients: Per Dose: Silver (Colloidal Silver) 75 mcp. Purified water.