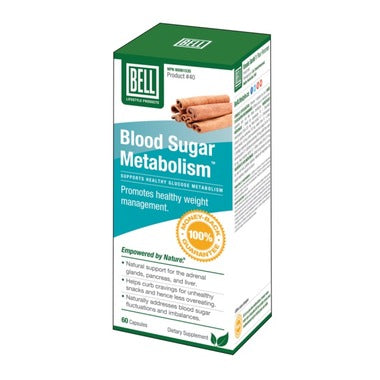 Bell Blood Sugar Metabolism
Helps balance blood glucose levels and supports healthy glucose metabolism.    A natural formulation of herbs and minerals that helps nourish and strengthen important organs, including the pancreas and liver. Good for hypoglycemia and weight gain due to blood glucose imbalance. May help with weightloss caused by blood glucose imbalance. Support for  the adrenal glands. Can help you take control of unhealthy snacking and overeating.   
Dosage: Adults: Take 1 capsule, 3 times daily with food. Take a few hours before or after taking medications.   
Ingredients: Gymnema extract 20:1 (Gymnema sylvestre) (leaf) 167 mg, White mulberry extract 10:1 (Morus alba) (leaf) 150 mg, Prickly pear extract 10:1 (Opuntia ficus-indica) (stem, leaf bud) 100 mg, Bitter melon extract 10:1 (Momordica charantia) (fruit) 50 mg, Cassia extract 10:1 (Cinnamomum aromaticum) (bark) 50 mg, Dragon's blood extract 10:1 (Daemonorops draco) (fruit resin) 50 mg, Chromium (as chromium picolinate) 150 mcg, Vanadium (as vanadyl sulfate) 60 mcg.   
Cautions: Consult a health care practitioner prior to use if you have intestinal disorders, or symptoms such as abdominal pain, nausea, vomiting or fever. Consult a health care practitioner prior to use if you have diabetes. Consult a health care practitioner if symptoms persist or worsen. If an allergic reaction to one of the ingredient occurs, stop using and consult a healthcare practitioner. Discontinue use and consult a health care practitioner if you experience symptoms of hypoglycemia including feelings of anxiety, dizziness, tremor, sweating, nausea or headache.
Contra-Indications:  
Do not use if you are pregnant or breastfeeding. Do not use if you have kidney disorder.