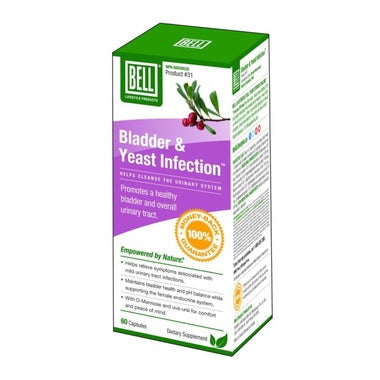 Bell Bladder & Yeast Infection
Formulated to help alleviate urinary tract infections (UTIs), including bladder infections and kidney infections.   
Helps promote a clean and fresh urinary tract. Does not destroy good intestinal bacteria (gut flora/gut microbiota) like antibiotics. Supports your kidneys, bladder, and urethra. Supports the female endocrine system and helps fight yeast infections. Bladder & Yeast  Infection combines six natural ingredients: uva-ursi extract, goldenseal extract, d-mannose, buchu extract, pumpkin seed extract and hydrangea extract for optimal urinary tract health. These herbs together play a part in keeping healthy microbial balance in your digestive tract. These ingredients combine to give you thorough, but gentle cleaning power. They keep your bladder walls clean and healthy, making it easy for your body to flush out waste.   
Dosage: Adults: Take 1-2 capsules, once daily. Start with 1 capsule and increase the dose to 2 capsules if results are not observed.   
Ingredients: D-mannose 230 mg, Pumpkin extract 10:1 (Cucurbita pepo) (seed) 100 mg, Uva-ursi extract 10:1 (Arctostaphylos uva-ursi) (leaf) 100 mg, Buchu extract 10:1 (Agathosma crenulata) (leaf) 100 mg, Hydrangea extract 20:1 (Hydrangea arborescens) (root) 75 mg, Goldenseal extract 10:1 (Hydrastis canadensis) (root) 50 mg.   
Cautions: Keep out of reach of children. Stop use and seek medical attention immediately if you experience dizziness, confusion, muscle weakness or pain, abnormal heart beat and/or difficulty breathing. Discontinue use if vertigo and a feeling of tightness in the chest occur. If a person is allergic to one of the ingredients, discontinue use and consult a healthcare practitioner. Consult a health care practitioner if symptoms persist or worsen. Do not use if you are pregnant or breastfeeding. Consumption with alcohol or other medications with sedative properties is not recommended. Consult a health care practitioner prior to use if you are taking anticoagulants. Do not use if you have a urinary tract inflammation or kidney infection. Consult a health care practitioner prior to use if you have blood pressure problems. If you have heart disease, high or low blood pressure, kidney or liver disorder, diabetes or edema, or taking products containing diuretics, do not use. Discontinue use if you experience GI and kidney irritation.