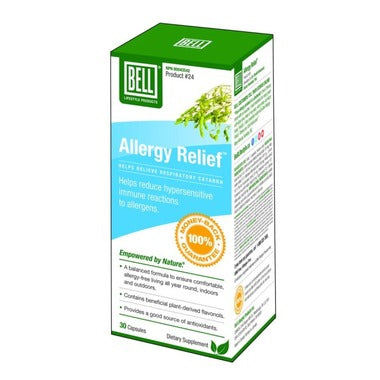 Natural allergy formula. Helps promote a normal immune response to allergens.   
A balanced formula to help combat allergens all year round, indoors and out. Holy basil is traditionally used in Ayurveda as an expectorant to help remedy respiratory catarrh (discharge or build-up of mucus in the throat, nose and sinuses). Helps modulate the body's inflammatory response. Our natural allergy formula is a perfect supplement to have all-year-round, in case of unexpected allergic reactions, particularly during high allergy seasons like spring and summer. It is a natural allergy aid that blends renowned and science-backed phytonutrients that help to optimize immune system health.
This unique formula contains a balance of time-honoured herbs that are regularly used in flavourful cooking and are appreciated for their health-supporting qualities. The cherished plants rounding out this outstanding combination are uplifting basil and sage, and calming peppermint and rosemary. The latter, as its name suggests, contains notable levels of beneficial rosmarinic acid for a complete histamine balance product.  Studies have shown that rosmarinic acid helps modulates the body's immune response, promoting a normal reaction to external stimuli rather than triggering an overreaction.
Go ahead, don't be afraid to go outside! This product is your ultimate year-round aid for optimizing immune response and maintaining healthy respiration and comfort.
Dosage: Adults: Take 1 capsule, twice daily. For maintenance, take 1 capsule per day as required.   
Ingredients: Lobelia (Lobelia inflata) (whole plant) 130 mg, Lemon balm extract 10:1 (Melissa officinalis) (leaf) 100 mg, Quercetin (from sophora japonica) (seed) 118 mg, Holy basil extract 10:1 (Ocimum tenuiflorum) (leaf) 100 mg, Perilla extract 10:1 (Perilla frutescens) (seed) 75 mg, Rosemary extract 10:1 (Rosmarinus officinalis) (leaf) 50 mg, Sage extract 20:1 (Salvia officinalis) (leaf) 50 mg, Peppermint extract 10:1 (Mentha x piperita) (leaf) 50 mg.   
Cautions: If you are taking any heart or blood pressure medication, consult a health care practitioner prior to use. If an allergic reaction to one of the ingredient occurs, stop use and consult a health care practitioner. Consumption with alcohol, other medications or health products with sedative properties is not recommended. Do not use if you are pregnant or breastfeeding. Consult a health care practitioner if symptoms persist or worsen.
Contra-Indications:  
If you have diabetes, consult a health care practitioner prior to use. Consult a health care practitioner prior to use if you have a cardiac or respiratory disorder. Consult a health care practitioner prior to use if you have high blood pressure. Consult a health care practitioner prior to use if you have digestive disorders.
Known Adverse Reactions:  
Some people may experience drowsiness. Exercise caution if operating heavy machinery, driving a motor vehicle or involved in activities requiring mental alertness. If you have a seizure disorder.