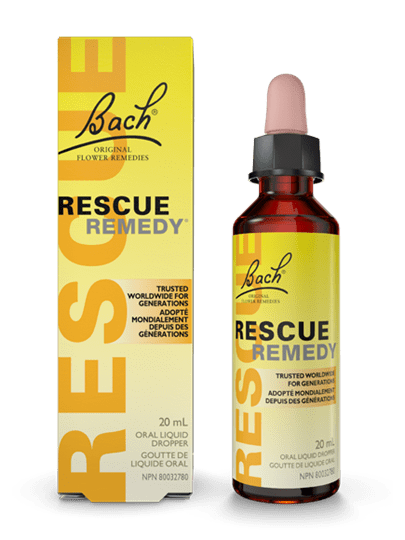 Description & Features 
Whether it's a frustrating commute, approaching exams, a difficult day at the office, or the demands of a busy family life, keep on top of your busy day with RESCUE®.
The RESCUE REMEDY® DROPPER combines the original flower essences discovered by Dr. Bach in the 1930's to provide support in times of emotional demand.
Perfect to keep at home.
Ingreditents:
Each single dose (4 drops) contains:
Helianthemum nummularium (Rock rose) (flower)
  
5X
Clematis vitalba (Clematis) (flower)
  
5X
Impatiens glandulifera (Impatiens) (flower)
  
5X
Prunus cerasifera (Cherry Plum) (flowering twigs)
  
5X
Ornithogalum umbellatum (Star of Bethlehem) (flowering clusters)
  
5X
Non-Medicinal Ingredient
Alcohol 27%.
Dosage: Adults: Take 4 drops in water daily.
Caution: 
_ Consult a health care practitioner if symptoms persist or worsen.
_ Do not use if you are pregnant or breastfeeding unless directed by a health care practitioner.
_ Keep out of reach of children.
_ Do not use if seal is broken.
_ Store below 25°C / 77°F.