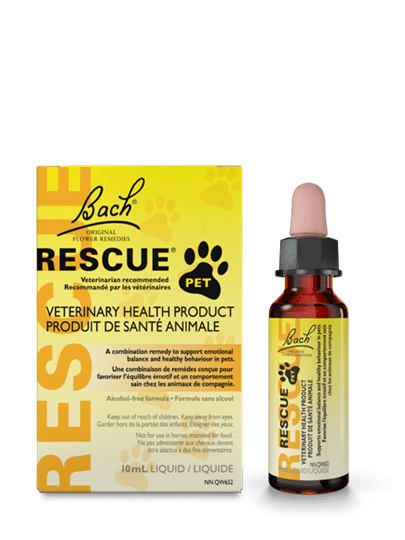 Description & Features 
RESCUE® PET is a combination remedy that supports emotional balance and healthy behaviour in pets with use of:
Helianthemum nummularium to support healthy balanced behaviour
Clematis vitalba to help the animal maintain focus
Impatiens glandulifera to support calm demeanour
Prunus cerasifera to promote healthy response to external stimulation
Ornithogalum umbellatum to help restore balanced disposition
Suitable for use with the following animals:
Dogs
Cats
Horses not intended for food
Ingreditents:
Active Ingredients
Each single dose (4 drops) contains: Helianthemum nummularium (Rock Rose) (flower) 5X, Clematis vitalba (Clematis) (flower) 5X, Impatiens glandulifera (Impatiens) (flower) 5X, Prunus cerasifera (Cherry Plum) (flowering twigs) 5X, Ornithogalum umbellatum (Star of Bethlehem) (flowering clusters) 5X. 
Inactive Ingredients
Glycerine 80%, water 20%.
Dosage: Use in dogs, cats, and horses not intended for food. Horses: administer orally on a full stomach. Do not place dropper directly into the animals' mouth. Add 4 drops of RESCUE® PET into your pet's food, water bowl, or on a treat. Repeat as needed.
Caution: 
_ Keep out of reach of children.
_ Keep away from eyes.
_ Flower essence preparation.
_ Do not directly administer orally to cats but add to drinking water.
_ Not for use in young, pregnant or lactating animals.
_ Not for use in horses intended for food.
_ Store below 25°C / 77°F.