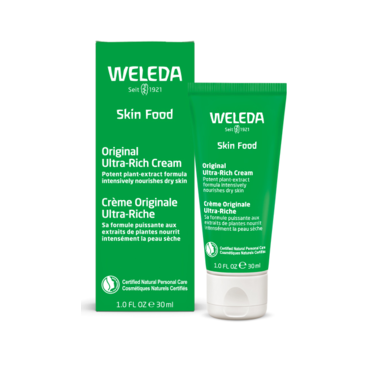 Weleda Skin Food Original Ulta-Rich Cream
Description & Features 
The ultimate moisturizer for dry, rough skin
Our best-selling product that originally launched in 1926 and has been a cult favorite ever since.  The rich plant blend formula transforms skin to appear more luminous.
Skin Food is a universal savior of dry, rough skin on faces, elbows, hands and feet. With extracts of gentle viola tricolor, calendula and chamomile, in a rich, thick base of oils and beeswax, Skin Food hydrates skin to give you a healthy-looking glow.
Makes skin feel hydrated, smooth and moisturized. Dermatologically tested.
Ingredients:
Water, Sunflower Seed Oil, Wool Wax, Sweet Almond Oil, Beeswax, Alcohol Polyglyceryl-3, Polyricinoleate, Glycerin, Limonene 1, Viola Tricolor Extract, Hydrolyzed Beeswax, Sorbitan Olivate, Rosemary Leaf Extract, Chamomile Flower Extract, Calendula Flower Extract, Arginine, Zinc Sulfate, Fragrance 1, Linalool 1, Geraniol 1, Citral 1, Coumarin 1. 
1 from natural essential oils.