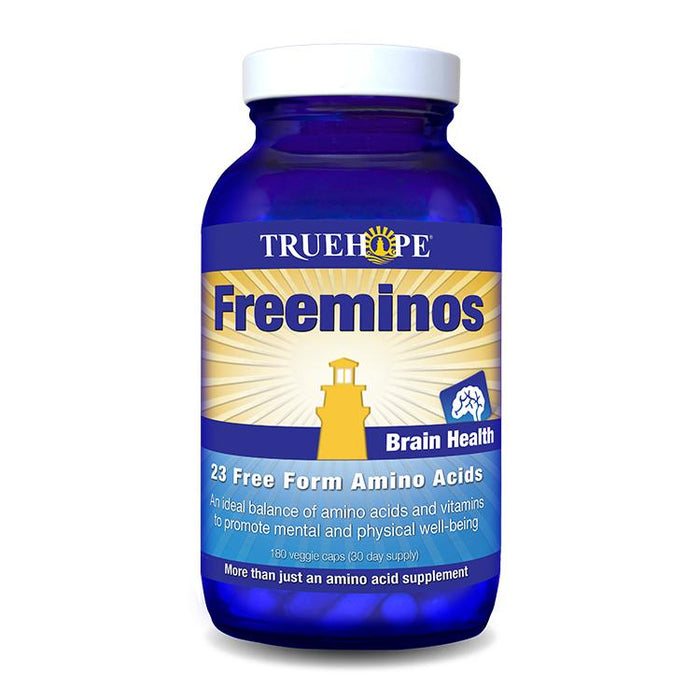 Description & Features
Freeminos is a free-form amino acid supplement: meaning it can be used by the body right away, without having to be completely digested first. And since amino acid supplements require vitamins to work properly, they are included in this Truehope formulation. 
This formula contains more essential amino acids per serving than most brands - including 50% more BCAAs (branched chain amino acids - leucine, isoleucine and valine), and nearly double the amount of glutamine and glutamic acid, which help with mental and physical stress. L-Theanine has also been added, to help promote relaxation.
Amino acids not only transport and store nutrients all over the body, they're also the fundamental elements which compose the hormones and neurotransmitters which govern our mental processes and moods. If our diet is deficient in bioavailable amino acids or we're undergoing too much physical activity or mental stress, our bodies have to break down its own tissues such as muscle mass to carry out those vital functions -- unless we take a supplement.
Ingredients: 
Amount per 3 capsule serving:
Vitamin C (L-ascorbic acid): 225 mg
Vitamin D (cholecalciferol): 7.5 mcg
Vitamin E (d-alpha tocopheryl succinate): 10.05 mg
Thiamin (thiamin mononitrate): 0.12 mg
Vitamin B6 (as pyridoxine 5-phosphate): 2.25 mg
Folic acid: 75 mcg
Vitamin B12 (methylcobalamin): 18 mcg
Alanine (as L-alanine): 52.2 mg
Arginine (as L-arginine): 66.6 mg
Aspartic acid (as L-aspartic acid): 122.4 mg
Carnitine (as L-carnitine L-tartrate): 90 mg
Citrulline (as citrulline): 5.4 mg
Cysteine (as N-acetyl-L-cysteine): 23.4 mg
Glutamic acid (as L-glutamic acid): 145.5 mg
Glutamine (as L-glutamine): 126 mg
Glycine (as L-glycine): 36 mg
Histidine (as L-histidine): 48.6 mg
Isoleucine (as L-isoleucine): 111.9 mg
Leucine (as L-leucine): 180 mg
Lysine (as L-lysine): 133.5 mg
Methionine (as L-methionine): 27 mg
Phenylalanine (as L-phenylalanine): 72 mg
Proline (as L-proline): 104.4 mg
Serine (as L-serine): 66.6 mg
Taurine (as L-taurine): 72 mg
Theanine (as L-theanine): 99.9 mg
Threonine (as L-threonine): 102.9 mg
Tryptophan (as L-tryptophan): 63 mg
Tyrosine (as L-tyrosine): 52.2 mg
Valine (as L-valine): 99 mg
Other ingredients: methylcellulose (veggie capsule), cellulose, silicon dioxide, magnesium stearate, natural vanilla flavour.
Dircetions: Freeminos can be used anytime as a daily amino acid supplement (which can help build lean muscle during exercise, or help reduce cognitive fatigue during stressful situations), or as part of the process of transitioning off psychiatric medications.
Take 3 capsules twice daily with food, or between meals.
Store in a cool, dry place, or refrigerate.
Cautions: Consult a healthcare practitioner prior to using Truehope Freeminos if you are pregnant or breastfeeding. Ensure adequate hydration before, during and after exercising.