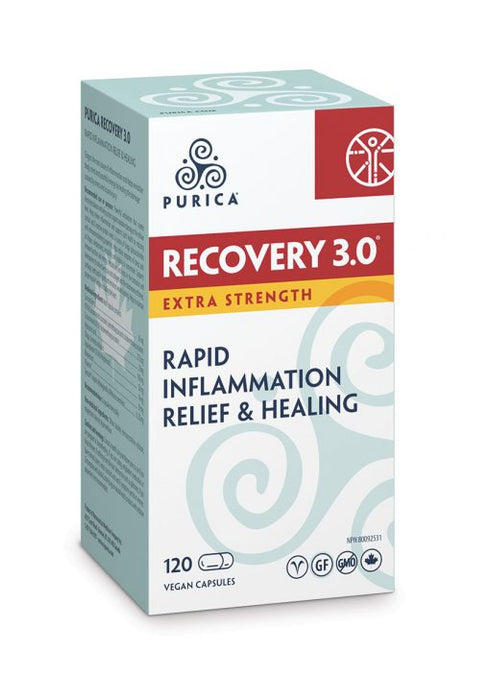 Purica Recovery 3.0 Extra Strength
Description & Features 
We've combined the proven strength of the original PURICA Recovery with the rapid relief of PURICA Curcumin. The result is the Next Generation: PURICA Recovery 3.0. It's music to the ears of athletes and active living people who want to perform at the top of their game and make the most of life, at work and at play!
It's a powerful antioxidant, anti-inflammatory and immunity optimizer
It supports joint health and proper muscle function, including the heart
It helps reduce symptoms of stress such as fatigue, sleeplessness, irritability and inability to concentrate.
Helps in collagen formation and the development and maintenance of bones, cartilage, teeth and/or gums
Facilitates connective tissue formation and in the healing of wounds
Enhances energy metabolism and the maintenance of normal electrolyte balance
Ingredients:
Medicinal ingredients (each capsule contains):
Curcuma longa 67 mg 97.0 % Curcuminoids (curcumin, demethoxycurcumin, bisdemethoxycurcumin)
Curcuminoids (97.0% bisdemethoxycurcumin) 27.5 mg
Hyaluronic acid 25 mg
Chaga (Inonotus obliquus) 100 mg
Applephenon (70.0% Polyphenols) 50 mg
Magnesium 14 mg
Vitamin C 39 mg
Sensoril® organic Ashwagandha (Withania somnifera) 31.25 mg
Non-medicinal ingredients: Silicon dioxide, microcrystalline cellulose, magnesium stearate, hypromellose.
Dosage: Take 2 capsules twice dailys.
Caution:Consult a health care practitioner prior to use if you are pregnant or breastfeeding, if you are taking antiplatelet medication or blood thinners; if suffering from bile duct obstruction such as gallstones, if you have stomach ulcers, excess stomach acid and if symptoms persist or worsen. Consumption with alcohol, other drugs or natural health products with sedative properties is not recommended.