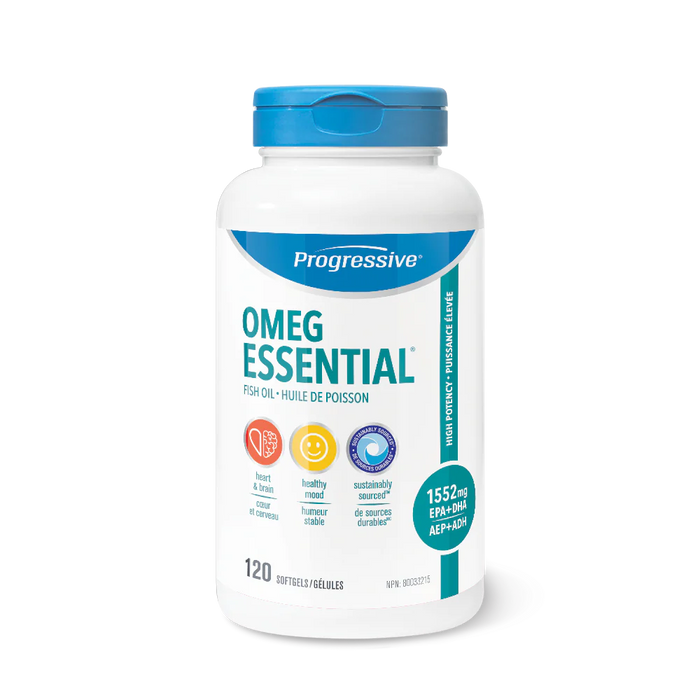 Progressive OmegEssential
Progressive Sustainably-Sourced OmegEssential High Potency Fish Oil is a foundational supplement designed to be taken on a daily basis. It has a long list of benefits and is ideal for the maintenance of good health. Each serving provides 1,000mg of EPA and 550mg of DHA in a balanced 2:1 ratio.
OMEGESSENTIAL - SOFTGELS
Cold water and wild caught fish
Molecularly distilled & to remove all unwanted contaminants
Additional antioxidants to preserve the high potency oil from oxidation
Formulated with Sustainably Sourced fish oils
A clean, pleasant taste
Medicinal Ingredients
Cold Water Fish Oil Blend (Sardine, Anchovy, Mackerel) 920 mg
Providing
EPA (Eicosapentaenoic Acid) 250 mg
DHA (Docosahexaenoic Acid) 138 mg Mixed Tocopherols 9.5 mg
Extra Virgin Olive Oil 5 mg
Rosemary Leaf Oil 2.5 mg
Grape Seed Oil 1.25 mg
Natural Lemon Oil 1.25 mg
Non-Medicinal Ingredients:
Gelatin, Glycerin, St. John's Bread Extract.
Contains fish.