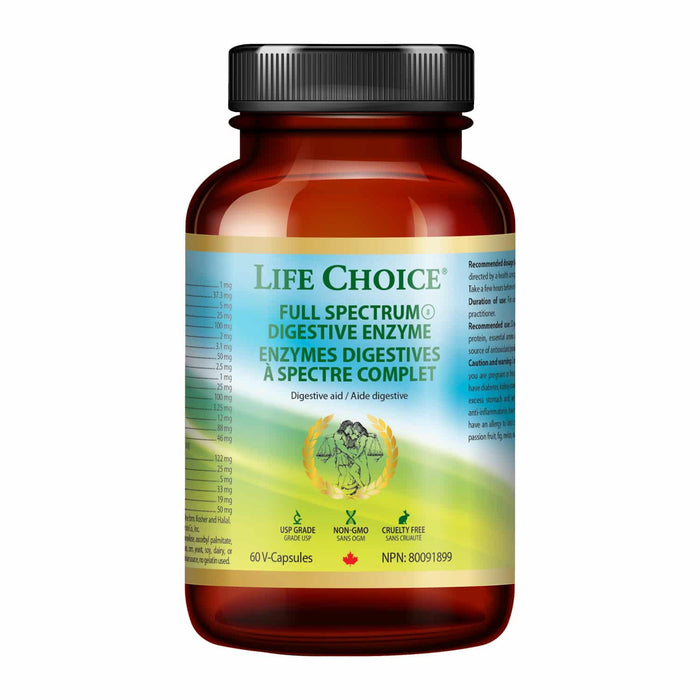 Life Choice Full Spectrum Digestive Enzymes
Description & Features 
NEW Digestive Enzymes by Life Choice! - Broad spectrum means the complete digestion of fats, proteins, and carbohydrates, as well as fiber in the diet. Unless you eat an 80% raw foods diet, it is likely that undigested processed foods are accumulating in your arteries and in your digestive tract. This is the dual purpose of taking daily enzyme supplements: complete digestion and uncompromised blood circulation.
Helps with:
Constipation
Bloating
Cramping
Flatulence & belching
Heartburn & acid reflux
100% Pure Pharmaceutical Grade
Non-GMO
Dosage:
Take 1 capsules daily with first bite of food/meal. Consult a health care practitioner beyond use of 4 months.
Ingredients:
Acid Maltase (1 FCC DP)........................1 mg
Alpha-Amylase (1875 FCC DU)……….15 mg
Alpha-galactosidase (50 FCC GaIU)…………..5 mg
Beet (root) …………..25 mg
Betaine hydrochloride ……100 mg
Bromelain (32880 FCC PU)……….2 mg
FOS (Chicory root)……50 mg
Glucomylase (3 FCC AGU)…………2.5 mg
Invertase (170 FCC SU)…………………..1 mg
Kale…………………25 mg
L-Lysine (fermented)……..100 mg
Lactase (325 FCC ALU)………………3.25 mg
Lipase (240 FCC LU)……………………12 mg
Ox Bile (bovine)……………..88 mg
Pancreatic enzymes …………..27.5 mg
(6875 Amylase, 550 Lipase, 6875 Protease)
Papain (2000 FCC PU)………………….122 mg
Peppermint…………….25 mg
Pepsin (150000 USP FCC PU)……….100 mg
Protease 3.0 (3 FCC SAPU)……………..5 mg
Protease 4.5 (4930 FCC HUT)…………33 mg
Protease 6.0 (1640 FCC HUT)…………..19 mg

Organic, Vegan, Fair Trade, Kosher, Non-GMO