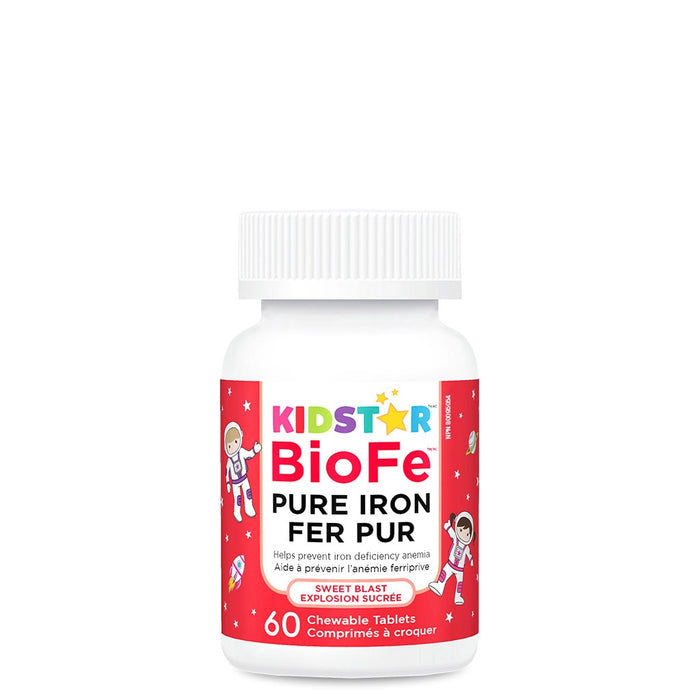 Kidstar BioFe Pure Iron Chewable Tablets
Description & Features 
Our Pure Iron tablets are tiny and chewable, making them easy to swallow. BioFe is gentle and will not upset sensitive stomachs or stain teeth like common iron supplements.
What makes BioFe™ better than other irons? Many iron supplements irritate the digestive system causing constipation, diarrhea, nausea, and cramping. You don't have to worry about these side effects with BioFe™.
Like all KidStar™ nutrients our iron supplements are pure and do not contain sugar, artificial colours, artificial sweeteners, artificial flavours, soy, gluten, benzoates and GMOs.
What makes BioFe™ so Great?
Can be taken with or without food
Can be taken with calcium or a multivitamin
Does not cause digestive upsets such as constipation, diarrhea or nausea
Suggested Use: Ages 3 and up take 2 tablets per day. Ages 14 and over take 3 per day. Take with food a few hours away from medications.
Medicinal Ingredients (per 2 tablets):
Iron (iron (III) pyrophosphate elemental)…..10 mg
Non-Medicinal Ingredients:
Xylitol, vegetable magnesium stearate, sunflower lecithin, sweet potato maltodextrin.