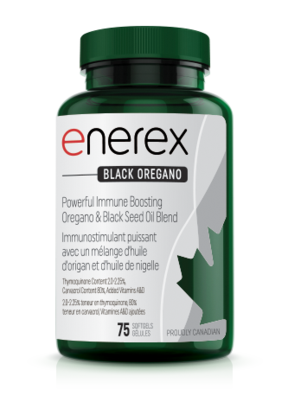 Enerex Black Oregano blends two long-standing Mediterranean treasures into one powerful modern remedy. This product combines pure Black Seed Oil and our wild-crafted Oregano Oil to provide a one-two knock-out punch to harmful bacteria, viruses, and other invading organisms.   
Features:
Blends two time-tested immune supportive remedies to give a greater effectiveness than on their ownEffective aid against a variety of pathogens including E. coli, Strep and Staph.
Vitamins A & D to boost immune function and response
Beneficial for colds, flus, allergies, sinusitis, bronchitis, coughs, infections
Cold-pressed 1st extraction better retains essential properties and is solvent free
Unique compounds found only in Black Seed Oil that support the immune system
Directions: ADULTS and ADOLESCENTS 14 years old and over: Take 1 capsule 3 times daily with meals, or as directed by a health care practitioner. ADOLESCENTS 9-13 years old: Take 1 capsule once daily with meals, or as directed by a health care practitioner.   
Medicinal Ingredients:
Vitamin A (Palmitate) 33.3 IU.......................................................10 mcg RAE
Vitamin D3 (Cholecalciferol) 50 IU....................................................1.25 mcg
Non-medicinal ingredients:
Blend of 40% solvent-free steam distilled Wildcrafted Mediterranean Oregano Oil (Origanum vulgare, min. 80% carvacrol, leaf) and 60% solvent-free first cold pressed wild crafted Black Seed Oil (Nigella sativa, seed).
There are no other ingredients added to this formula.