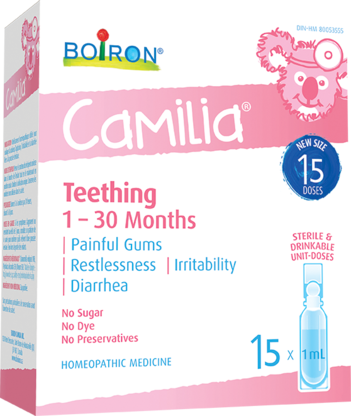 Camilia is a homeopathic medicine used to relieve pain, restlessness, irritability and diarrhea due to teething.
Developed specifically for babies and toddlers aged 1 to 30 months, Camilia is formulated in a sterile water-based and does not contain sugar, dye, benzocaine or preservatives.
Camilia is neutral-tasting and comes packaged in sterile, drinkable and unbreakable unit-doses, making it easy to administer.
Its neutral taste makes taking it easy, and helps baby recover his smile.
Features:
No Sugar
No Dye
No Preservatives
No Benzocaine
Other Info: Camilia does not require any special storage conditions prior to opening the aluminium pouch.
Directions: Children from 1 month to 30 months - Hold baby in a seated position. Squeeze entire contents of one single-use unit-dose into baby's mouth. Keep the remaining unit-doses in the aluminum pouch. Give 3 to 6 unidoses per 24 hours, during 3 to 8 days.   
Active Ingredients: Chamomilla vulgaris 9CH, Phytolacca decandra 5CH, Rheum officinale 5CH.
Non-Active Ingredients: Purified water
Caution: If symptoms worsen or persist for more than 3 days, consult a health care practionner to confirm that symptoms are related to teething.
Keep out of the reach of children.