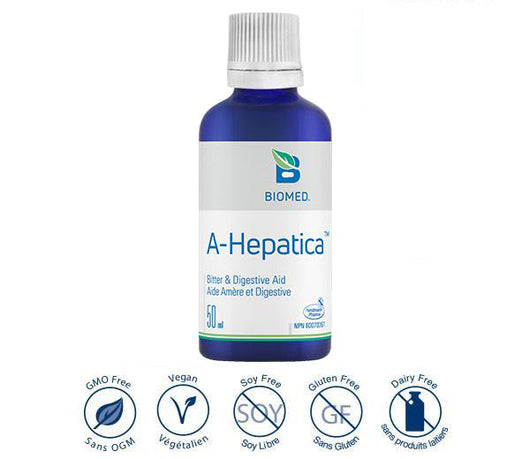 Description & Features
✔
 Liver drainage and detox
✔
 Optimizes bile production and flow
✔
 Regulates secretion in GI tract
A-Hepatica is an herbal combination for detoxification of the liver and gallbladder. German physicians have been using this formula for many decades as a liver detoxifier. Hepatica regulates secretion and absorption in the digestive system, has anti-inflammatory and anti-spasmolytic function in the portal vein, stimulates bile flow and increases detoxification of the liver.

A-Hepatica can be used in cases of chronic liver conditions due to infection, cholecystitis, cholangitis, metabolic disturbances, adiposity, and toxic stress due to environmental chemicals.
Ingredients:
Each 100 ml contains:
• Pimpinella anisum (Anise) 1.9 ml
• Citrus aurantium (Bitter orange) 10.8 ml
• Cnicus benedictus (Blessed thistle) 28.9 ml
• Cichorium intybus (Chicory) 16.7 ml
• Cinnamomum verum (Cinnamon) 1.9 ml
• Geum urbanum (Clove root) 6.5 ml
• Coriandrum sativum (Coriander) 0.9 ml
• Melissa officinalis (Lemon balm) 19.4 ml
• Anemone hepatica (Liverwort) 6.5 ml
• Artemisia absinthium (Wormwood) 6.5 ml
Non-Medicinal Ingredients:
• Purified water, ethanol, vinum liquorosum
Recommended Dosage:
Take 1 tsp (5 ml, 60 drops) in warm water 20 minutes before meals three times daily or to be used on the advice of a health care practitioner.