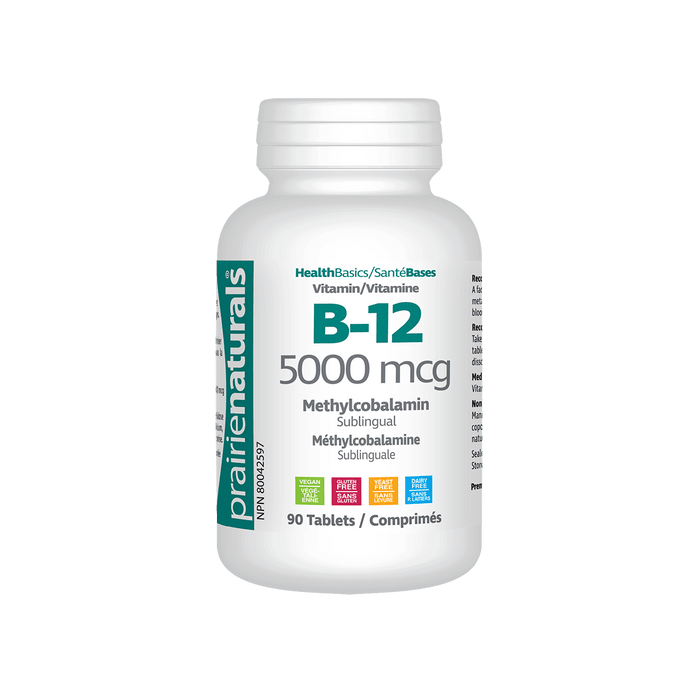 Prairie Naturals B-12 5000 mcg
Description & Features 
Prairie Naturals new sublingual Vitamin B-12 5000 mcg (methylcobalamine) is readily absorbed in a tasty little tablet that melts rapidly & thoroughly under the tongue. From Dr Oz to the Mayo Clinic, every health expert is recommending the daily intake of Vitamin B-12. Healthy aging requires adequate Vitamin B-12 and supplementation is especially important for vegetarians. Memory loss, chronic fatigue, muscle weakness, shortness of breath, dizziness, numbness, and heart palpitations are improved with Vitamin B-12.
A factor in the maintenance of good health. Helps the body to metabolize carbohydrates, fats and proteins. Helps to form red blood cells.
Methylcobalamine – most potent B12 available

 

Sublingual for quick absorption 

 

Promotes healthy aging

 

Delicious, natural cherry-flavour

 

Excellent for elderly people & vegetarians

 

Prevents & corrects B12 deficiency symptoms including fatigue

 
Ingredients:
Vitamin B-12 (Methylcobalamin)    –    5,000 mcg
Non-Medicinal ingredients: Mannitol, sorbitol, crospovidone, microcrystalline cellulose, copovidone, silicon dioxide, xylitol, magnesium stearate, natural cherry flavour.
Dosage: Adults: Take 1 tablet per day. To maximize absorption, each sublingual tablet should be held under the tongue until completely dissolved.
Cautions: Sealed for your protection. Keep out of the reach of children. Store in a cool dry place.